I love traditional tacos! Or I should say, I used to love tacos. Then I fell out of love with the taco seasoning packet and hadn't found a suitable replacement…until now. This Authentic Mexican Ground Beef Taco Recipe came to me in an E-mail Recipe Exchange. I was so excited! I can't really give proper credit because I don't know the person, but I think her name was Shannon, so thank you!
Authentic Mexican Ground Beef Tacos are perfect for a Taco Night or The National Taco Day which is celebrated on October 4 in US.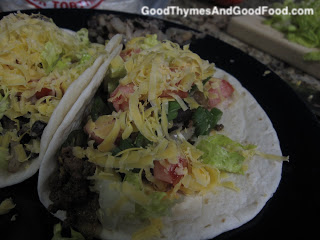 Ingredients
Below is the seasoning recipe for the ground beef. I used 1 lb and it was the perfect amount (it will make about 4 servings).
I always recommend to use fresh ingredients, as it is what really makes your food taste better.
1 lb. ground beef
1 onion, diced (onion will be cooked and invisible in cooked meat, so you can use even 1 large onion. Onions and garlic make a whole difference in tacos)
3 tsp. chili powder
2 tsp. cumin
1 1/2 tsp. garlic powder
3/4 tsp. oregano
1/3 tsp. red pepper flakes
1 tbsp. olive oil
salt
pepper
corn tortillas
This ground beef topping will work not only for tacos, but for burritos too or served with rice.
OPTIONAL:
1 1/2 tsp paprika
1 tbsp garlic, minced
To make the beef taste more like comfort food, you can add a pinch of sugar (store bought seasonings often have sugar) – 1 tsp.
Cooking ground beef, you can also add tomatoes and chopped cilantro.
To make tacos spicy add jalapenos.
---
Directions
Tacos are a very traditional Mexican food, easy to make and to eat, as it is always hand-sized and couple of bites. The 50% of taco success is tortilla – I prefer corn tortillas, but I know people who like flour tortillas with beef more.
Total time is about 30 min. Easy dinner!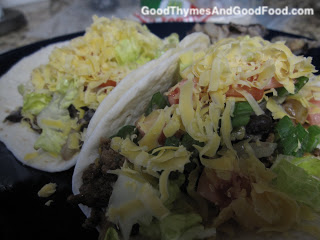 The secret to cook perfect tacos is to toast spices you use before adding meat:
Heat a large skillet over medium-high heat. Add onion and salt & pepper to taste, cook until onion is transluscent, for about 8-10 min. If you're adding garlic, add it now and cook for another minute.
Mix in the chili powder through red pepper flakes and any other spices you want.
Add ground beef to the skillet. Season the meat with salt and pepper. Add seasoning mix.
Cook through (There was no fat to drain from this package of meat. Just watch your pan and drain if necessary). If you're adding tomatoes and cilantro, add them at last 5 min of cooking. In gerenal, small chunks of beef will brown in 10 min.
Assemble tacos the preferred way and serve. Don't forget to warm tortillas. Enjoy!
---
How to eat tacos
Tacos are soo good that I don't know anyone who doesn't love tacos. But there is one tiny problem – how to eat tacos without creating a mess?
you always use hands
you tilt your head, you don't tilt tacos!
you bite from the side (not in the middle)
if you have a crunchy taco, you hold it in the middle (where all the ingredients are), and you eat one end, then the other end, and you finish it with the section in the middle.
when you assemble tacos, put cheese on the bottom, it will help you keep tacos from getting too juicy and falling apart.
---
What to serve with tacos
Tacos are great by themselves, but when eat good food, you need more good food, right? You can combine eating tacos with sides like this:
salsa and chips
refried beans
guacamole
sour cream
corn (corn casserole, Mexican style corn on the cob, corn salads, corn pudding)
grilled zuchinni
drinks: margaritas and iced lemon tea
coleslaw (I do my own version – Pineapple coleslaw)
Basically, you can serve dips, dishes with rice, beans, corn, peppers, sweet potatoes, and drinks.
Want more Mexican food? I have more recipes:
and more on my blog 🙂
---
This recipe was originally published on Good Thymes Good Food in 2009 and republished in 2021.