Honey Lime Chicken Enchiladas. Honey, lime, and chicken? In an enchilada?  Really?  But I promise – it's very, very good.  So good.  They are just slightly sweet from the honey but have wonderful tang from the lime with a creamy, cheesy chicken filling.  I wasn't sure that anything would top my regular, favorite enchiladas but these completely did.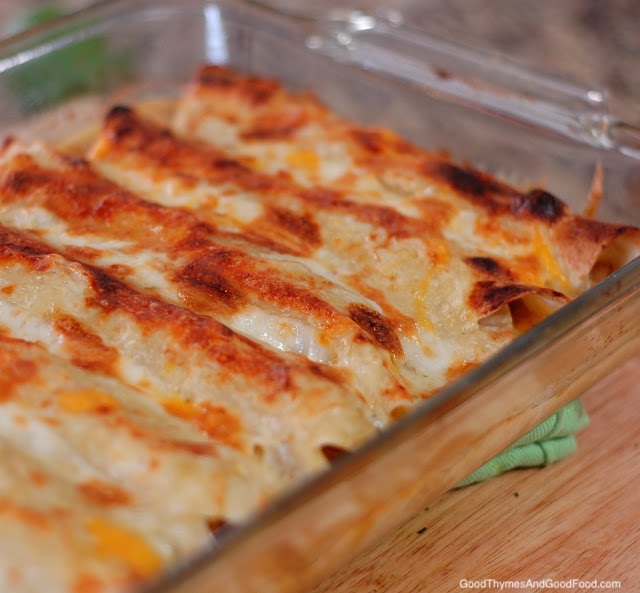 I see another round of these coming up very soon in our future…
Honey Lime Chicken Enchiladas Ingredients
6 tbsp. honey
5 tbsp. lime juice, from 2-3 limes
1 tbsp. chili powder
1/2 tbsp. cumin
1/2 tsp. garlic powder
2 boneless, skinless chicken breasts, cooked and shredded
8-10 flour tortillas
1 lb Monterrey jack cheese, shredded
16 oz. green enchilada sauce
1 cup heavy cream or half & half
---
Directions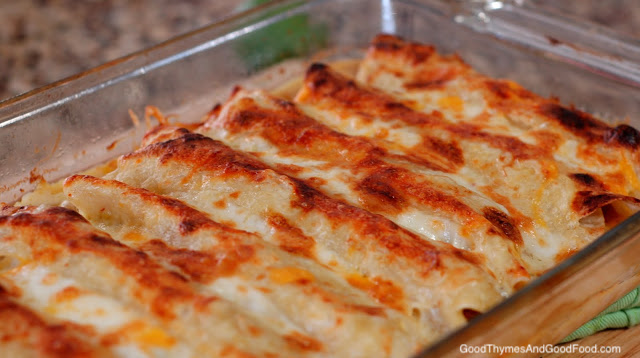 Preheat the oven to 350 degrees F and mix the first five ingredients together. Toss with shredded chicken and refrigerate; allow to marinate for at least 30 min.
Using 1/2 cup enchilada sauce, coat the bottom of a 9×13-inch baking pan. Fill flour tortillas with chicken and shredded cheese, then roll up the filled tortillas and place them in the bottom of the pan, saving about 1 cup of cheese to sprinkle on top of enchiladas.
Mix the cream with the rest of the enchilada sauce.
Pour the sauce mixture on top of enchiladas and sprinkle with cheese.
Bake for 20 minutes covered with tinfoil.  
Remove aluminum foil and continue to bake for 10 more minutes, until bubbly and brown on top.