Before I posted Creamy Chicken Enchiladas I had to look back through my posting archive to make sure that I hadn't posted this before.  I was surprised to find that I hadn't because it is one of the few meals that we eat often.  I always use the same recipe for chicken enchiladas and that's pretty rare.  I like to change it up as often as possible.  So when I say that this is a good one, it really is.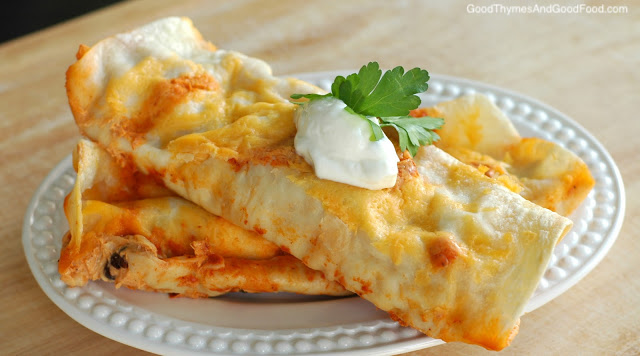 The cream cheese in the filling may not be authentic but it adds such a rich creaminess that can't be matched.  The addition of homemade enchilada sauce, black beans, and olives makes it a huge winner in my book.  This is one of my favorite dishes to make extra of and then freeze to eat later.
Creamy Chicken Enchiladas Ingredients
For the enchilada sauce:
1 tbsp. vegetable oil
1 onion, minced
1/2 tsp. Kosher salt
3 tbsp. chili powder
2 garlic cloves, minced or pressed
2 tsp. cumin
2 tsp. sugar
1 (15 oz.) can tomato sauce
3/4 cup water
For the enchiladas:
3 cups cooked chicken, shredded or diced
1 (8 oz.) package cream cheese, cut into cubes
1 bunch green onions (thinly slice them, and have more to garnish)
1 (15 oz.) can black beans (drain and rinse them)
1 (4.25 oz) can green chilis
1 (2.25 oz.) can of sliced black olives, drained
1 batch enchilada sauce, divided
4 cups shredded cheese, divided (I tried cheddar and Monterrey Jack)
flour tortillas
Directions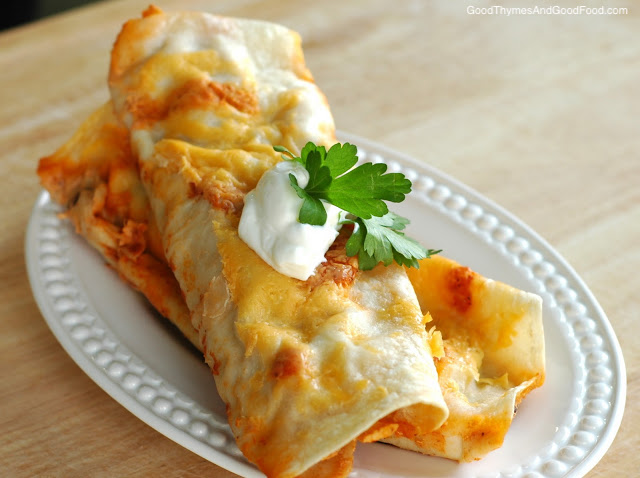 For the enchilada sauce:
Heat a 12-inch skillet over medium, simmer onion and salt, cook until softened, 5 minutes.
Stir in garlic, chili powder, garlic, cumin, and sugar.  Cook until fragrant.  
Add in the tomato sauce and water and bring to a simmer.  Cook until thickened, for about 5 minutes. Season to taste.
For enchilladas:
Preheat oven to 350 degrees. Heat a medium saucepan over medium-low heat.  Add in cream cheese and stir to melt.  
Stir in green onions, 2 cups shredded cheese, drained black beans, and green chilis, and heat through for about 3 minutes. 
Stir in chicken and black olives and remove from heat.  
Add 1 cup of enchilada sauce, mix well.
Heat tortillas in the microwave, a few seconds at a time, so that they are soft and pliable.  
Spray a 9×13-inch baking side with cooking spray.  Spread the quart of the enchilada sauce onto the bottom of the pan.  
Spoon 1/4-1/3 cup of the chicken mixture into the center of a warm tortilla, then roll as tightly as you can.  Place in pan seam side down. Repeat with remaining tortillas.  Pour 1 cup enchilada sauce on top of the tortillas.  Top with remaining 2 cups shredded cheese.
Cover with aluminum foil and bake in preheated oven for 20 minutes.  Remove foil and continue to bake until bubbly and cheese begin to brown, 5-10 minutes more.  Cool slightly before serving.