I bookmarked these decadent treats a while back.  It is definitely worth trying 🙂 These bars are outrageous: peanut butter with chocolate, soft marshmallows, chewy brownies, and crisp crunchy rice cereal – perfect! These are not for the faint of heart – they are rich and sweet but so good and gooey.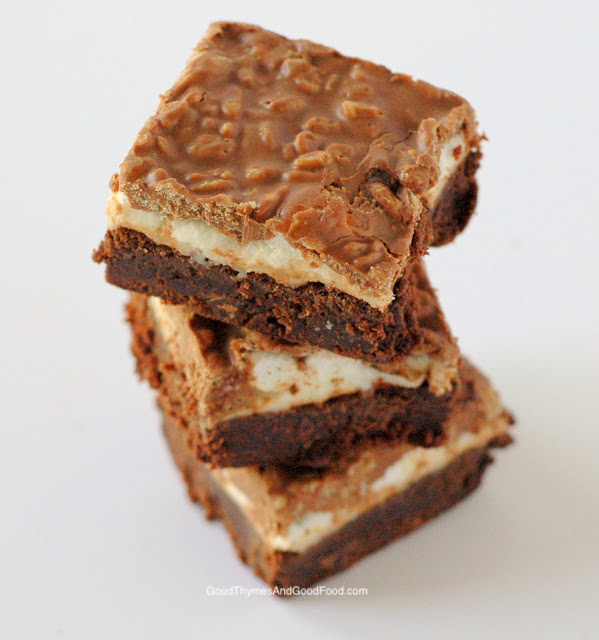 Brownie & Marshmallow Crunch Bars Ingredients
For the Brownie Base:
4 ounces unsweetened chocolate
2/3 cup unsalted
1 1/4 cups semisweet chocolate chips, divided
1 1/3 cups all-purpose flour
1 tsp. baking powder
1/2 tsp. salt
4 large eggs, at room temperature
2 cups granulated sugar
2 tsp. vanilla extract
For the Toppings:
1 bag (10½ ounces) miniature marshmallows
1 1/2 cups milk chocolate chips
1 cup smooth peanut butter
1 tbsp. unsalted butter
1 1/2 cups crisp rice cereal
Directions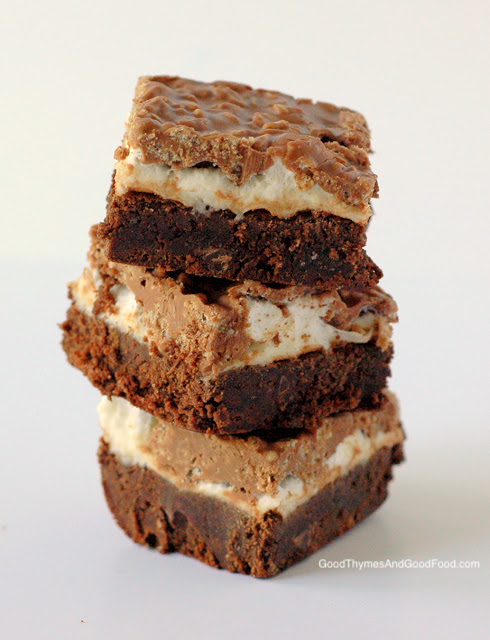 1. Preheat the oven to 350 degrees F (180C) and grease a 9×13-inch pan.
For the brownies:
In a medium saucepan, melt butter, unsweetened chocolate, 3/4 cup of semisweet chocolate chips at medium heat. Set aside to cool for 5 minutes.
In a medium bowl, sift together the flour, baking powder, and salt. Set aside.
Whisk the eggs thoroughly in a large bowl.
Whisk in vanilla and sugar.
Stir eggs into melted ingredients.
Mix in the dry ingredients.
Stir in the remaining semisweet chocolate chips.
Pour the batter into the prepared pan and smooth the surface with a spatula and bake for 25 to 30 minutes, or until a tester comes out with moist crumbs.
Once you remove the brownies from the oven, immediately sprinkle them with marshmallows. Return brownies with marshmallows to the oven for 3 more minutes.
Meanwhile, in a medium saucepan melt milk chocolate chips, peanut butter, and 1 tablespoon of butter at low heat, stirring constantly. Remove from heat and mix in the crisp rice cereal. Let the mixture cool for 3 minutes.
Spread the cooled mixture evenly over the marshmallow layer and refrigerate. Cut before serving
Brownie Marshmallow Crunch Bars can be eaten cold or at room temperature.  We preferred them at room temperature.