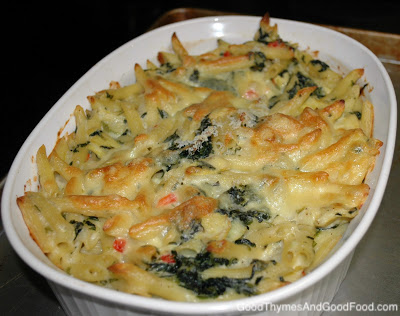 The crispy browned cheese usually graces the top. The warm, gooey center…divine. I had seen Spinach Artichoke Baked Pasta first on the Cooking channel and saw just a glimpse of this dish at the end of an episode of the Rachael Ray show. As soon as I saw that was it spinach, artichokes, and cheese, I was a goner. I added it to the list to make right away and I am so glad that I did.
While this dish came together fairly quickly, it did require a lot of pans – 3 to be exact and for me, that was a lot of just one dish. But it was definitely worth it. This would be a great meal to make ahead, I think that was the premise of this show, actually. It would also freeze beautifully. There is no meat in this dish, but chicken or even pork could easily be added. The original recipe called for Gruyere but I had other cheese I wanted to use. You could use just about anything you have around. I really don't think you can go wrong with this!
Spinach & Artichoke Baked Pasta Ingredients
1 10 oz. box frozen spinach
Kosher salt
1 pound short cut pasta, such as penne
2 tbsp. extra-virgin olive oil
1/2 onion, chopped
4 cloves garlic, minced or pressed
1 14 oz. can artichokes, drained, rinsed, dried and chopped in half
1/2 dry white wine
4 tbsp. butter
3 generous tbsp. flour
2 cups milk
fresh ground pepper
1 1/2 cups mozzarella
1/4 cup chopped pimentos
1 cup shredded Parmigiano-Reggiano cheese (Any cheese can be used to top this pasta).
Directions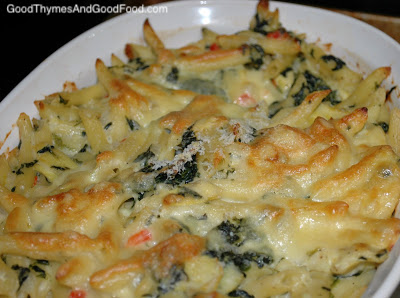 1. Preheat the oven to 375 degrees. Coat a large baking dish with thin layer of butter.
2. Defrost the spinach in the microwave and drain. Wring out spinach in clean towel or gently squeeze out water using a potato ricer. Set aside.
3. Bring a large pot of salted water to a boil and add pasta. Cook to al dente.
4. Meanwhile, heat tablespoon olive oil in a small skill over medium heat. Add onion and cook for 3-4 minutes. Add garlic and stir until fragrant. Add artichokes and cook for about 4 minutes. Stir in wine to deglaze the pan. Turn heat to medium low and stir occasionally. Season with salt and pepper.
5. While the artichokes simmer, bring a medium sauce pan to medium heat and add butter. When the butter is melted add the flour and whisk to combine. Cook for 1 minute. Slowly add in milk and season with salt and pepper. Cook until thickened, 5-7 minutes. Add mozzarella and stir to melt.
6. To the sauce, add the spinach, pimentos, pasta and artichokes. Stir to combine. Transfer to a buttered casserole dish and add remaining cheese.
7. Place on a foil lined baking sheet and bake for 30-45 minutes, until cheese is brown and sauce is bubbling. Let cool slightly before serving.