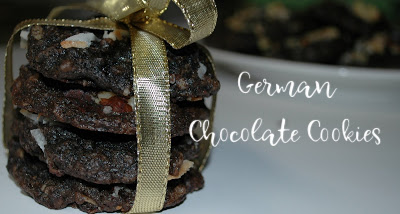 Being a child I thought the icing of German Chocolate Cookies was too gooey and I just…didn't like it. I didn't need a better reason than that. 😉 But now I'm much wiser (ha!) and have come to realize that the combination of coconut, chocolate, and nuts is genius. German Chocolate Cookies are delicious!
I found this recipe some time ago in Better Homes & Gardens. It even survived when I cleaned out all my recipes so I knew that I better make them. These are a good alternative to your standard chocolate chip/peanut butter/oatmeal cookie. Definitely a big hit around here.
The original recipe called for a flax seed meal, and while this is probably something that I could incorporate into our diet, I didn't want to buy this ingredient just for these cookies. After just a little research, I realized that if I left that out, I would need more butter. The cookies turned out just fine with butter too.
German Chocolate Cookies Ingredients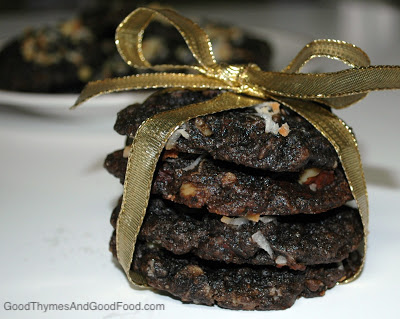 1/2 cup (1 stick) butter, at room temperature
3/4 cup brown sugar, packed
1/2 tsp. baking soda1/8 tsp. salt
1 egg
1 tsp. vanilla
2/3 cup all-purpose flour
2/3 cup rolled oats
1/4 cup unsweetened cocoa powder
3 oz. bittersweet chocolate chips, roughly chopped
1/3 coconut
1/3 cup chopped pecans (or walnuts), toasted
Chopped pecans or walnuts
Flaked coconut
Directions
Preheat the oven to 350 degrees F.
In a large bowl, beat butter on medium-high speed for 30 seconds. Scrape down and add brown sugar, baking soda, and salt. Beat until well combined.
Beat in eggs, one at a time, and vanilla.
Stir in flour, oats, and cocoa powder. Add chopped chocolate, coconut, and nuts.
On an ungreased cookie sheet, drop dough by rounded teaspoons, 2 inches apart. Top with coconut and nuts, if desired.
Bake for 7-10 minutes or until tops and edges are set. Let cool on cookie sheet before transferring to rack to fully cool.