Egg and Sausage Strata is a casserole that has serious sentimental value for many families. Haven't you had it every Thanksgiving and/or Christmas? I can remember waking up to the smell of this and being so excited. It was the only time of year that we had this.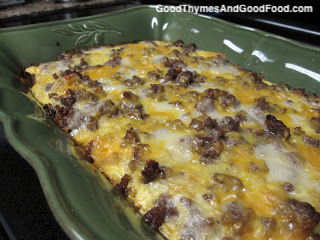 It's very simple, but it never fails to please. I don't know that this is her exact recipe, but it's very close and brings back all of my fond memories, so it works for me!
This needs to sit overnight, so make sure you have time for that.
Egg & Sausage Strata Ingredients
serves 6-8
5 English muffins, split
1 lb. breakfast sausage, maple-flavored
8 eggs
3/4 c. half & half
1/2 c. extra sharp cheddar, shredded
1/2 c. white cheddar, shredded (Any combination of cheese will work. Use what you have. Use more or less if you want, too!)
Directions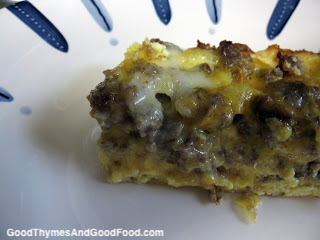 Cook sausage in a large skillet until browned and cooked through. Drain and set aside.
Meanwhile, butter a large casserole dish and lay split English muffins in the bottom. Cover the entire bottom and fill in gaps with torn pieces.
Layer cooked sausage on top of the English muffins.
Beats eggs in a large bowl and add half & half. Pour over sausage layer.
Top with cheese.
Cover and refrigerate overnight.
When ready to cook, preheat the oven to 375F and bake from 30-45 minutes, until eggs are set and cheese is bubbly.
Enjoy!