I saw this recipe in Better Homes & Gardens magazine and knew that I would enjoy these…even if they had zucchini in them! It turned out delicious!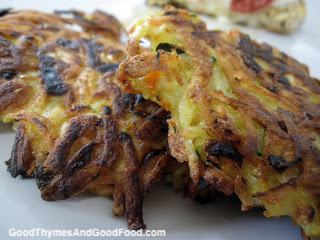 Carrot, Zucchini and Potato Cakes Ingredients
1 medium zucchini, shredded (about 1-1/4 cups)
1-1/2 lb. baking potatoes, peeled and shredded (about 4 cups)
1 large carrot, shredded (about 1 cup)
1/4 cup all-purpose flour
5 large eggs
2 tsp. chopped fresh thyme or 1/2 tsp. dried thyme, crushed
1/2 tsp. salt
1/4 tsp. ground black pepper
1 Tbsp. canola oil
Directions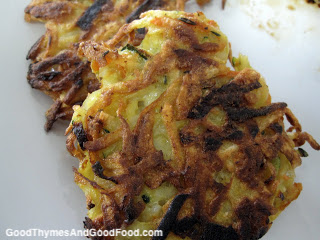 Preheat oven to 425 degrees F. Spray nonstick spray onto 2 small baking sheets; set aside.
In a colander drain zucchini; You can press zucchinis to squeeze out excess liquid.
In a large bowl combine zucchini, potatoes, carrot, flour, 1 of the eggs, thyme, salt, and pepper.
In extra-large nonstick skillet heat half of the oil over medium heat.
To make a pancake:
Spoon an about 1-cup portion of potato mixture into skillet pan. Press to form even surface and round edges using the back of a spatula.
You can cook 2 pancakes at a time, for 4 to 5 minutes each side or until golden brown (turn once).
Transfer to prepared baking sheet and place in oven until all cakes are made.
Repeat with the remaining oil and potato mixture.