I watched Ina Garten make this Cheddar Dill Cornbread on an episode of Barefoot Contessa and knew right away that I wanted to try Ina Garten Cheddar Dill Cornbread. I really like cornbread but don't make it too often. I thought the combination of cheddar and dill was interesting, so I whipped it up and I am so glad that I did! I ended up eating it for breakfast for part of a week!! 😉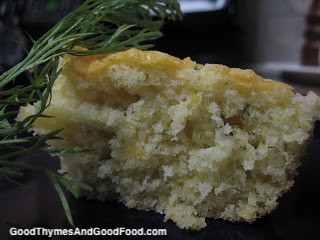 The only thing I changed was to make half of the recipe. The full recipe is below. I did bake it in a smaller pan and for about 20 minutes. It worked out just fine! The next time that I make this I might actually add more dill…but I really like dill, so that's just me.
Ina Garten Cheddar Dill Cornbread Ingredients
3 cups all-purpose flour
1 cup yellow cornmeal
1/4 cup sugar
2 tablespoons baking powder
2 teaspoons kosher salt
2 cups milk
3 extra-large eggs, lightly beaten
1/2 pound (2 sticks) unsalted butter, melted, plus extra to grease the pan
8 ounces aged extra-sharp Cheddar, grated, divided
1 cup minced fresh dill
Directions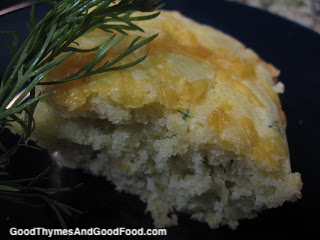 In a large bowl combine the flour, cornmeal, sugar, baking powder, and salt in a large bowl.
In a separate bowl, combine eggs, butter, and milk. Stir the wet ingredients into dry ingredients until most of the lumps are dissolved (use a non-stick spatula or a wooden spoon). Don't overmix!
Add 2 cups of the grated Cheddar and the dill, mix well and leave it at room temperature for 20 minutes.
Preheat the oven to 350F (180C). Grease your baking pan (I used a 9 x 13 by the 2-inch)
Transfer the batter to the pan, smooth the top. Sprinkle the top with the remaining cheese.
Bake for about 30 to 35 minutes, or until a cake tester, or a toothpick comes out clean.
Cool and cut into large squares. Serve warm or at room temperature.