Pasta Fagioli (Giada original recipe) is a really, really good soup. And it was so easy. I used to buy a soup that came in a bag from Alessi that tasted similar to this, but of course, this is so much better. That was before I conquered soup. I used to be very afraid, of making soup. But when I discovered chicken stock, it was a game-changer!
I made a few changes to the recipe: instead of two cans of red beans, I added 1 can red and 1 can white and I'm glad that I did. It was a nice variation. I also added a can of diced tomatoes and that worked out well, too. I used a whole box of chicken stock and didn't have to open a second one!!
We had this with bread for dipping and it made a very satisfying meal! Do try this one soon, if you haven't before!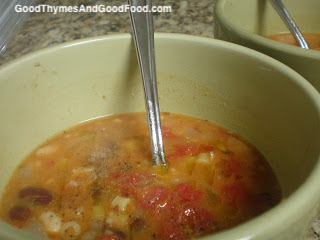 Pasta e Fagioli Ingredients
4 sprigs fresh thyme (I used dried, about 1 tsp.)
1 large sprig of fresh rosemary (Dried again, 1/4 tsp.)
1 bay leaf
1 tablespoon olive oil
1 tablespoon butter
1 cup chopped onion
3 ounces pancetta, chopped
2 teaspoons minced garlic
5 3/4 cups low-sodium chicken broth (I used a full box, which was 4 cups.)
1 14.5 oz. can diced tomatoes
2 (14.5-ounce) cans red kidney beans, drained and rinsed
3/4 cup elbow macaroni
Freshly ground black pepper
Pinch red pepper flakes, optional
1/3 cup freshly grated Parmesan
1 tablespoon extra-virgin olive oil
1 rind Parmesan Cheese (I just let this soak for a while at the end and then took it out.)
Directions
The original recipe tells us to wrap herbs (bay leaf, thyme, and rosemary) in a piece of cheesecloth and secure closed with kitchen twine, but I didn't do this. I just put them in the soup and took the bay leaf out at the end.
In a heavy large saucepan heat 1 tablespoon olive oil and butter over medium heat. Add garlic, onion, pancetta, and saute them for about 3 min until the onion is tender.
Add the broth, beans, and sachet of herbs and cover. Bring the soup to a boil over high heat, then lower the heat to medium and simmer for 10 minutes until the vegetables get very soft.
Discard the sachet. Puree 1 cup of the bean mixture in a blender until smooth*.
Before putting the puree back into the soup, add the macaroni and boil with the lid on until it is tender but still firm to the bite, about 8 minutes.
Place the puree back into the soup in the saucepan and stir well. Season with freshly ground black pepper and red pepper flakes.
Ladle the soup into bowls. Sprinkle the soup in each bowl with some Parmesan. Before serving drizzle the soup in the bowls with extra-virgin olive oil.
When you're blending hot liquids, don't do it when they are just from heat:
let the liquid cool for at least 5 minutes.
In a blender or food processor, fill the bowl with the hot liquid no more than halfway.
If you use a blender, release one corner of the lid to prevent the vacuum effect and eventual heat explosion.
Cover the top of the machine with a towel, pulse a few times to try, and only then process at high speed until smooth.