I don't know if Ooey Gooey Butter Cake is a Paula Deen original or just a Southern specialty and I honestly don't care!! They are just too good!
I don't know where this craving came from. I DO have much of a sweet tooth so I made Ooey Gooey Butter Cake and it turned out so easy and tasty!
They turned out well, although a little overcooked, I think. They are rich, but rich and DELICIOUS. They hit the spot, that's for sure. Some of these are going to have to go to school. They can't stay here!!! 🙂
I share below the pumpkin variation of the Ooey Gooey Butter Cake too, it can work for Halloween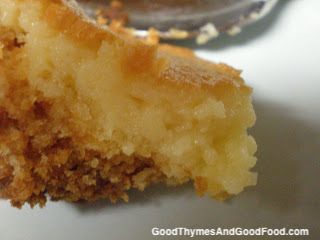 ---
Gooey Butter Cake Ingredients
Cake
1 (18.25-ounce) box yellow cake mix
1 egg
1/2 cup (1 stick) butter, melted
Filling
1 (8-ounce) package cream cheese, softened
2 eggs
1 teaspoon pure vanilla extract
1 (16-ounce) box confectioners' sugar
1/2 cup (1 stick) butter, melted
Directions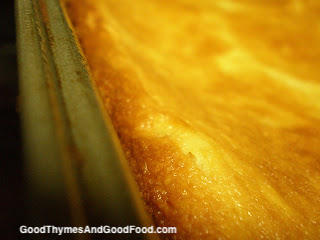 Preheat oven to 350 degrees F (180C).
Lightly grease a 13x9x2-inch baking pan.
In the bowl of an electric mixer, combine cake mix, egg, and butter and mix well.
Pat the batter into the even layer on the bottom of the prepared pan and set aside.
Beat cream cheese in the mixer until it gets smooth; add vanilla and eggs.
Dump in confectioners' sugar and beat well. Reduce the speed, and pour in the butter. Mix well.
Pour filling onto cake mixture and spread evenly. Bake for 40 to 50 minutes depending on how well you know your own oven – the goal is to have the center of the cake be a little gooey, so don't over bake it!
Remove from oven and allow to cool completely.
Cut into squares. This cake is amazing as it is very rich!
---
Pumpkin Ooey Gooey Butter Cake recipe
INGREDIENTS
For cake:
1(18 1/4 ounce) package yellow cake mix
1 egg
8 tablespoons butter, melted
For the filling:
1 (8 oz) package cream cheese, softened
1(15 oz) can pumpkin
3 eggs
1 teaspoon vanilla
8 tablespoons butter, melted
1(16 oz) box powdered sugar
1teaspoon cinnamon
1teaspoon nutmeg
DIRECTIONS
Preheat oven to 350F (180C).
To make the cake:
In a bowl combine all of the ingredients and mix well.
Pat batter into a lightly greased 13×9-inch baking pan. Make even layer.
To make the filling:
Beat the cream cheese and pumpkin until the texture is smooth.
Add the eggs, vanilla, and butter, and beat again.
Add the powdered sugar, cinnamon, nutmeg, and mix.
Spread pumpkin mixture over cake batter, and bake for 40 – 50 minutes.
Do not over-bake (the center of the butter cake should be a little gooey).
Serve the cake with cinnamon-flavored ice cream, fresh whipped cream, or other toppings of your preference..