Cold Asian-Inspired Asparagus is a delicious asparagus dish does not disappoint in the flavor realm.  It is very quickly cooked then plunged into ice water before meeting a marinade of soy sauce and sesame oil, along with some other components.  This is one of my favorite side dishes to make ahead of time because it needs to chill in the fridge for a couple of hours to really let the flavors come together.  It's great for a crowd or even enjoyed for lunch.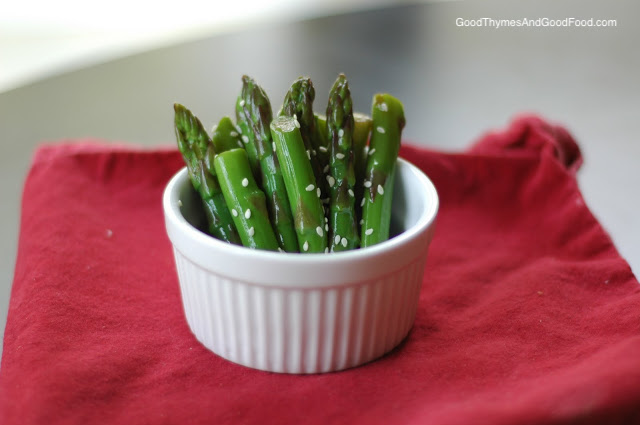 Cold Asian-Inspired Asparagus Ingredients
2 pounds asparagus, ends snapped and cut into 1 1/2-inch pieces
1/4 cup soy sauce
1/2 tsp. sugar
1/2 tsp. cider vinegar
1/2 tsp. salt
2 tsp. sesame oil
Directions
Bring 1 cup of water to a boil in a medium saucepan and add asparagus.  Boil for 1 minute, drain and plunge into ice water to stop the cooking process.
Combine soy sauce, sugar, vinegar, salt, and sesame oil in a large bowl.  Drain the asparagus from the ice water well and add to the dressing.  Toss to combine.  Cover and chill for several hours.