Lemon Poppy Seed Muffins really are your quintessential lemon poppy seed muffins and they are as delicious as you would imagine; moist, tender, and full of flavor.  The lemon is a burst of freshness and the poppy seeds are such a fun addition and add an interesting color and texture.  I truly love these muffins and have had my freezer stocked with them for awhile now 🙂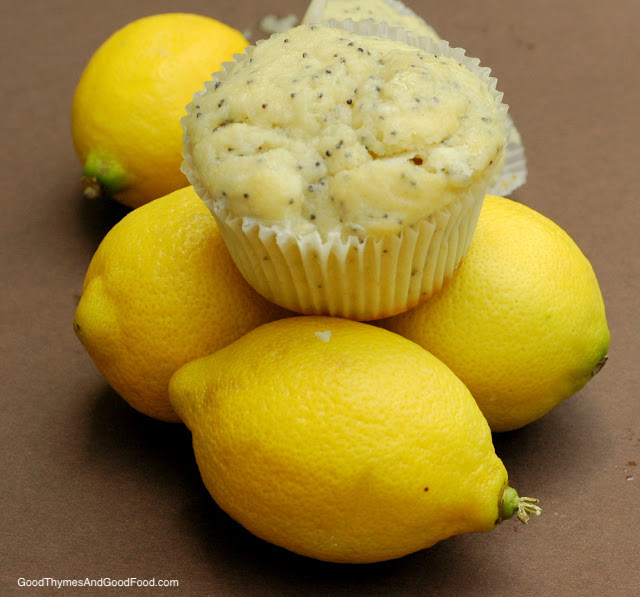 Lemon Poppy Seed Muffins Ingredients
2 cups all-purpose flour
2 tbsp. poppy seeds
1¼ tsp. baking powder
¼ tsp. baking soda
½ tsp. salt
8 tbsp. unsalted butter, at room temperature
1 cup sugar
2 large eggs
Zest of 1 lemon
1 tsp. vanilla extract
1 cup yogurt (plain or vanilla)
For the glaze (optional):
½ cup confectioners' sugar
1-2 tbsp. freshly squeezed lemon juice
Directions
Preheat the oven to 350 degrees F (180C) and line a muffin tin with paper liners.
In a medium bowl, combine the flour, poppy seeds, baking powder, baking soda, and salt. Whisk to combine and set aside.
In the bowl of an electric mixer, beat the butter and sugar on medium-high speed until light and fluffy, about 2 minutes. Beat in eggs, adding one at a time, and blend well after each egg. Add in the lemon zest and the vanilla extract.
Mix in half of the dry ingredients, then add half of the yogurt, beating each addition until incorporated. Add remaining half dry ingredients and then yogurt. If you are using a mixer, set low speed.
Spoon the batter into the prepared liners, filling each about 2/3 full. Bake muffins for about 18-20 minutes until a tester or a toothpick comes out clean.
Let muffins cool for 5-10 minutes in cups, then transfer to a wire rack and leave them to cool completely.
For the glaze:
In a small bowl whisk sugar and lemon juice in a small bowl.
ON WARM MUFFINS: pour a small amount and let the glaze set while muffins are cooling before serving.
---
Vegan Lemon Poppy Seed Muffins Ingredients
2 Cups All-Purpose Flour
3/4 Cup Cane Sugar
2 Tbsp Poppy Seeds
1/2 Cup Neutral Oil
2-3 Tbsp Lemon Juice
2 Tbsp Lemon Zest
2/3 Cup Vegan Yogurt
2 Flax Eggs
2 Tsp Vanilla Extract
2 Tsp Baking Powder
1/2 Tsp Baking Soda
1/2 Tsp Salt
FOR THE GLAZE
1 Cup Powdered Sugar
1-2 Tbsp Lemon Juice
The way to cook them is the same, just adjust the ingredients.