I don't really consider myself a picky eater (some might disagree) but I am super picky about coleslaw. Have you ever tried some flavorless, soggy, mushy, coleslaw in your life? I have. Cabbage is crisp and delicious – so my pick is Pineapple Coleslaw!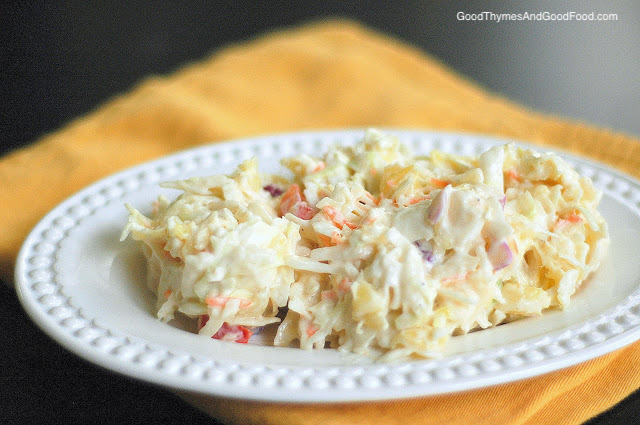 As I tasted a lot of soggy coleslaw in my life, I wasn't sure I can make it at home. I had the list of ingredients, but I was just terrified by the idea of getting a cabbage mess.  But I was more curious, so here I am, happy with my Pineapple coleslaw! You can make a great coleslaw at home, it is easy, not mushy, not soggy, and has a lot of flavor, even sweetness as we will add pineapples.
Pineapple Coleslaw Ingredients
1 (16 oz.) package coleslaw mix
3/4 cup mayonnaise
2 tbsp. sour cream
2 tbsp. grated onion
1 tbsp. sugar, or to taste
2 tbsp. white vinegar
1 tbsp. dry mustard
1 tbsp. celery salt
2 cups pineapple, chopped (dry well)
Kosher salt and freshly ground pepper
Directions
In a large bowl whisk sour cream, sugar, mayonnaise, onion, vinegar, mustard, celery salt, salt, and pepper.  Add in the coleslaw mix and the pineapple.
Mix well to combine and taste for seasoning.
Cover and let the coleslaw sit in the fridge for at least 1 hour.