Sometimes meals happen because you are craving an ingredient, sometimes they happen because it's what's on your meal plan, other times they are born out of necessity.  This Pasta with Ricotta, Lemon, and Spinach was one of those times.  I needed to make lunch and I just didn't want a sandwich and we also didn't have any leftovers.  On top of that, it was the end of the "grocery week" and we didn't have much in stock.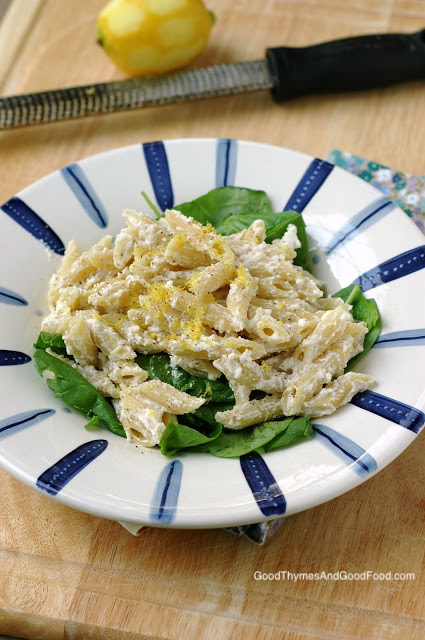 However, I did have a partial tub of ricotta cheese, spinach, and lemons. I always have pasta and Parmesan cheese around so voila – Pasta with Ricotta, Lemon, and Spinach! Lunch was made!  Any herbs could be added to this and would make the dish that much better.  Definitely make sure your pasta water is plenty salty – I think that's what made this dish so flavorful.
This is Good Thymes & Good Food original recipe since 2011.
Pasta with Ricotta, Lemon, and Spinach Ingredients
serves 2
½ lb. pasta, any variety
½ cup ricotta cheese
zest of 1 lemon
½ tbsp. unsalted butter
Parmesan cheese, to taste
Kosher salt and freshly ground black pepper, to taste
3 oz. spinach leaves
Directions
Bring a large pot of salted water to a boil and cook pasta to al dente according to directions. Drain and return to pot.
Combine the ricotta, lemon, and butter with the pasta and stir well. Season to taste with Parmesan, salt, and pepper.
Divide the spinach evenly between two dishes and then spoon the hot pasta on top of the spinach.