I'm usually a traditional margarita kind of person.  If I make them at home, it's just tequila, triple sec, lime juice, and ice.  If I order them out, it's the house margarita and always on the rocks.  But something about a strawberry margarita has sounded so wonderfully delicious to me lately.  I love strawberries and adding them to one of my favorite drinks was a no-brainer.  I just don't know how I haven't made these sooner.
I'm pretty sure that you don't need convincing when it comes to margaritas but just in case you do, know that these are just as awesome as they seem!  🙂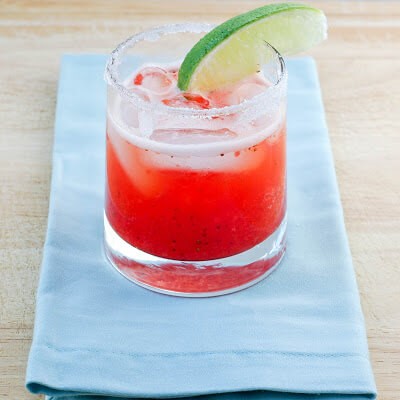 Strawberry Margaritas

For one drink:
2 oz. tequila
Splash of triple sec
Juice of ~half of a lime
⅓ cup strawberry simple syrup (recipe below)
Lime wedges, for garnish
Sugar for rim of glass
Rub the edge of a glass with a lime wedge and dip in sugar.
Combine tequila, triple sec, lime juice and strawberry syrup in glass and stir. Fill with ice. Adjust as needed.
For strawberry simple syrup:
1 cup granulated sugar
1 cup water
1½ cups strawberries, hulled and sliced.
In a medium saucepan over medium heat, combine 1 cup sugar with 1 cup of water. Bring to a boil and allow sugar to dissolve, stir occasionally. Remove from heat and cool completely.
In a blender, combine 1 cup simple syrup and 1½ cups sliced strawberries and blend until combined. If desired, strain the mixture over a fine mesh strainer to remove the seeds.