I'm not even sure where to start with this dish. Should I start with the bacon? Or the cheese? Or the combination of both? Yeah, let's start there. This is just…so good. The cheese and bacon come together to create a truly delicious, decadent, grown-up macaroni & cheese…with mushrooms and spinach, to boot.
While I do enjoy bacon, I usually don't cook with it, I reserve it for the occasional breakfast. You won't catch me eating bacon wrapped filet or bacon cheeseburgers. I think that bacon has its place but it's not usually in dinner dishes. Until now, that is! It really just add that perfect layer of flavor to what would be already delicious dish. Definitely indulge yourself and try this one.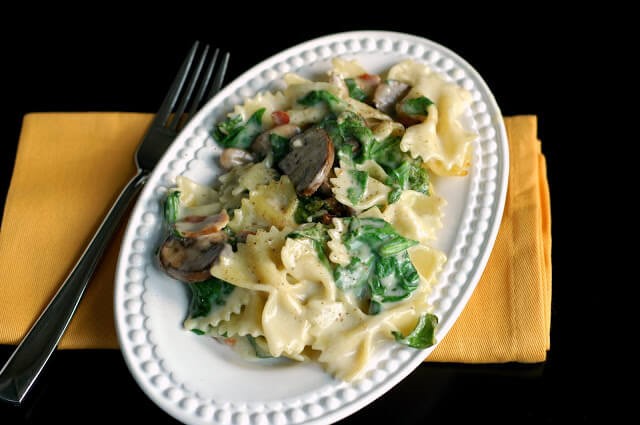 Bacon Lover's Mac & Cheese
12 oz. short pasta
5-6 oz. bacon, chopped
8 oz. baby bella mushrooms, sliced
2 tbsp. unsalted butter
¼ cup flour
2 cloves garlic, minced
2½ cups milk
¼ tsp. salt
¼ tsp. red pepper flakes
Freshly ground black pepper, to taste
4 oz. Fontina cheese, grated
4 oz. white cheddar cheese, grated
3 cups fresh baby spinach leaves, chopped
1.  Preheat the oven to 400 degrees and bring a large pot of salted water to boil. Once the water is boiling cook the pasta according to package directions until just shy of al dente. Drain well and set aside.
2. Meanwhile, in a skill over medium heat, cook the bacon until crispy. Transfer to a plate lined with paper towels with a slotted spoon. (If desired, set aside 2 or 3 tablespoons of the cooked bacon for topping the baked mac and cheese.) Set aside 2 tablespoons of the bacon grease and return the pan to the heat.  Add the mushrooms to the hot pan and cook until they release their liquid, about 7 minutes.  Season with salt and pepper. Remove from the heat.
3. For the cheese sauce, add the reserved bacon grease to a medium saucepan with the butter. (If there was not enough bacon grease to make 2 tablespoons, replace the missing amount by adding an equal amount of butter.) Heat over medium-high heat until the butter is melted then whisk in the flour and garlic. Cook, stirring constantly, until the mixture is golden, 1-2 minutes. Slowly whisk in the milk and cook the mixture, stirring frequently, until it begins thicken.
4. Add in the salt, red pepper flakes, and pepper. Remove the pan from the heat and whisk in the Fontina and white cheddar until completely melted and smooth. Add the drained pasta to the pot and mix in the cooked bacon and mushrooms, the cheese sauce, and the chopped spinach. Gently stir everything together until well combined and spread the mixture into a lightly greased 2-quart casserole dish.
5. Bake for 15-20 minutes, until the top is golden and the cheese is bubbling.