I am a huge lover of all things peppermint so during the holidays, I'm always looking for something minty to make or bake.  It's the perfect time to overdose on mint, particularly mint paired with chocolate.  
It's rich, smooth, minty, sweet, and perfectly chocolaty from the white chocolate.  
I highly suggest using a candy thermometer when making this, it will make it much easier and take the guess-work out of it.  I use candy thermometer all the time.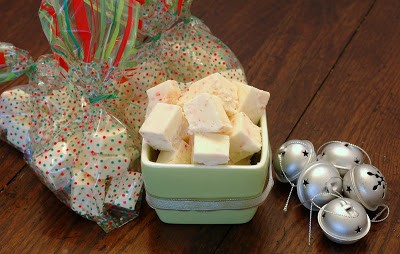 White Chocolate Peppermint Fudge

1½ tsp. plus ¼ cup unsalted butter, softened and divided
2 cups granulated sugar
½ cup sour cream
12 oz. white baking chocolate, chopped
1 jar (7 oz.) marshmallow creme
½ cup crushed peppermint candy (about 6 candy canes)
½ tsp. peppermint extract
Line a 9-in. square pan with foil. Grease the foil with 1 ½ teaspoons butter; set aside.
In a large heavy saucepan, combine the sugar, sour cream, and remaining butter. Cook and stir over medium heat until sugar is dissolved. Bring to a rapid boil; cook and stir until a candy thermometer reads 234° (soft-ball stage), about 5 minutes.
Remove from the heat and stir in white chocolate and marshmallow creme until melted. Fold in peppermint candy and peppermint extract. Pour into prepared pan. Chill in refrigerator until firm.
Using foil, lift fudge out of pan. Gently peel off foil; cut fudge into 1-in. squares. Store in the refrigerator.