I've lamented over side dishes before.  About half the time, they are an after-thought for me.  I know we need something besides just chicken (or whatever) but rarely am I excited about whatever that may be.  It's usually a salad, a vegetable, potatoes, rice, cous cous, blah.
Nothing to just up and down over. James loves twice baked potatoes and I don't make them very often because come on, you have to have the foresight to bake them and then take the time to bake them again. Psh…I love that man but I want dinner on the table in a timely manner.  😉
Well duh.  I finally realized that if I didn't think far enough ahead to bake some potatoes, I could just throw them in the microwave!  It's a miracle!  Cooked potatoes in a fraction of the time it would take to bake them in the oven.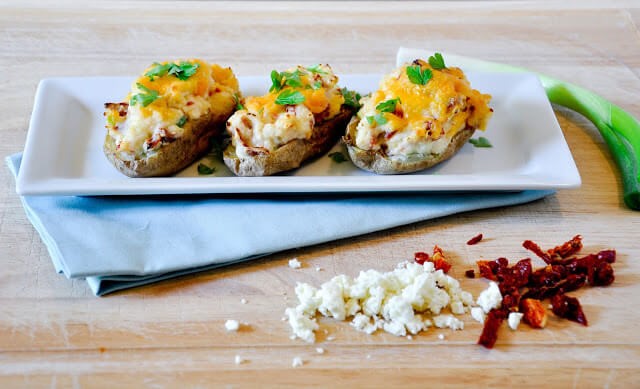 Once I realized that, my mind was reeling with possibilities.  Sun-dried tomatoes are always a welcome addition around here.  So off I went.  I combined the insides of the potatoes with sun-dried tomatoes, cream cheese, feta, and scallions.  Let me tell you, the combination was perfection.  Creamy, tangy, and savory all at the same time. Delicious.
The sun-dried tomatoes from Bella Sun Luci were moist and so full of flavor.  I loved the dry packed version the best but every single item that I tried from this company was delicious!!  I have so many more ideas for their sun-dried tomatoes!!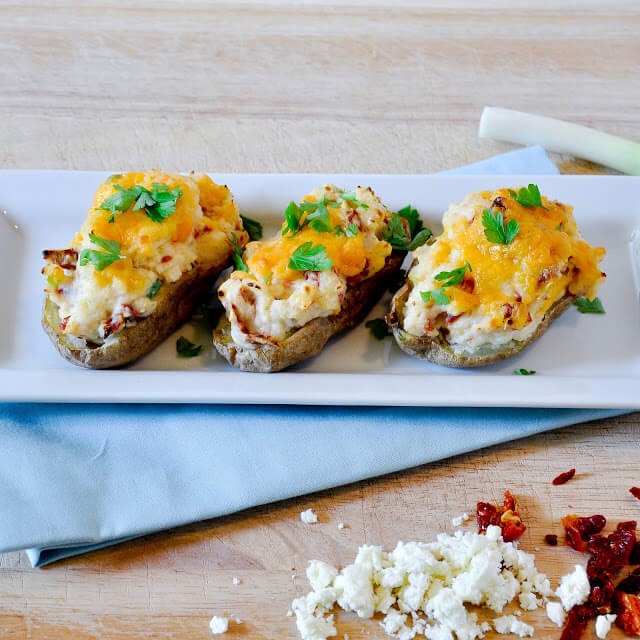 Twice Baked Potatoes with Sun-Dried Tomatoes and Feta


Serves 2
2 medium baking potatoes
2 oz. cream cheese, softened
¼ cup sun-dried tomatoes, chopped
1 heaping tbsp. crumbled feta cheese
1 scallion, thinly sliced
~¼ cup milk (more or less as needed)
Kosher salt and freshly ground black pepper
~¼ cup shredded sharp cheddar cheese
Parsley, for garnish
Preheat oven to 400°F. Using a fork, poke several holes in the raw, clean potatoes. Place in microwave on a microwave safe plate and cook for about 7 minutes, until a fork inserts and removes easily. Carefully cut in half to make long potatoes halves and allow to cool enough to work with.
Once potatoes are cool enough to handle, carefully remove the insides of the potatoes to a bowl, leaving a thin border to keep the skins stable. Place skins on a baking sheet and sprinkle with kosher salt. Set aside.
Combine the potato with the cream cheese, sun-dried tomatoes, feta, and scallions. Mash to desired consistency. Add milk as necessary. (The mixture should be a little wetter than normal mashed potatoes.) Season with salt and pepper.
Spoon potato mixture into potato skins and top with shredded cheese. Bake for about 15 minutes in preheated oven, until cheese is melted and beginning to brown. Garnish with chopped parsley.
Good Thymes & Good Food original recipe