Since we began making pizza at home versus buying it out, I have found that it's a great way to use up vegetables and cheese that are in your refrigerator.  Pizza is not limited to pepperoni and mozzarella! (Although this pizza does use mozzarella.)
We had a bunch of bocconcini leftover from an appetizer that I made and we thought it would make a great pizza – and we were right! We also had broccoli and sun-dried tomatoes and that really rounded out this dish.  With just a small amount of pizza sauce, the simple ingredients were really able to shine through.  I love making different kinds of pizza with all different toppings – give it a try!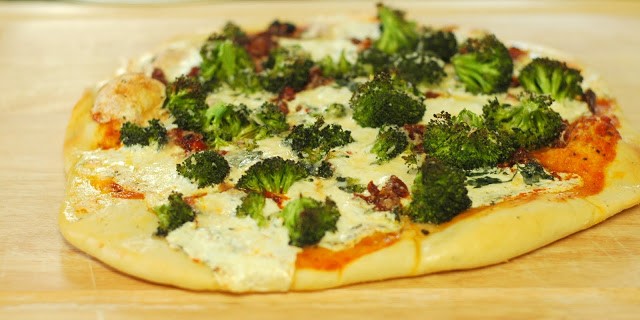 Broccoli, Bocconcini, and Sun-Dried Tomato Pizza
1 ball pizza dough
1/2 cup pizza sauce (see below)
1 head broccoli, cut into florets
~10 pieces bocconcini
1/4 cup sun-dried tomatoes, cut into strips
Preheat oven to 450 degrees and place pizza stone in oven for 30 minutes.
Shape dough into a round and place on a piece of parchment paper that is dusted with cornmeal.  Top pizza with pizza sauce, broccoli, bocconcini, sun-dried tomatoes.
Place pizza and parchment in the oven on the pizza stone and bake for 10-15 minutes until dough is cooked through.
Pizza Sauce
1 (14 oz.) can tomato sauce
3 tbsp. olive oil
2 cloves garlic, minced or pressed
1 tbsp. dried basil
1 tsp. dried oregano
Pinch crushed red pepper flakes
Kosher salt & black pepper, to taste
In a medium saucepan, combine the tomato sauce and olive oil.  Bring to a simmer and add garlic, basil, oregano, and red pepper flakes.  Allow to simmer for about 15 minutes. Season with salt and pepper, to taste.