I was craving enchiladas, which is strange because I don't usually crave Mexican food, and found Beef and Bean Enchiladas through the What's Cookin' board. It's easy and delish. It made so much that I froze an entire pan for a later date! Yay!
I cut the recipe in half (approximately). You will see my changes below.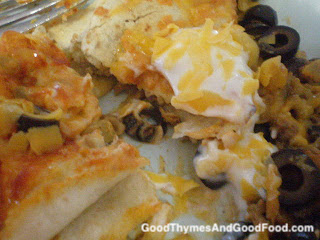 Ingredients
1 pound ground beef (you can also use beef chuck roast up to 3 lbs)
1 can black beans, drained and rinsed
1 tablespoon water
2 tablespoons red wine vinegar
2 tablespoons chili powder
1 tablespoon ground cumin
1 large onion, chopped
1 can chopped green chile peppers (can be 2 cans if you like it)
1 tablespoon all-purpose flour
1 cup sour cream (some people add 2 cups)
3 cups shredded Monterey Jack cheese, divided
1 cup oil for frying or cooking spray
20 (6 inches) corn tortillas or 12 flour tortillas
black olives
lettuce
Directions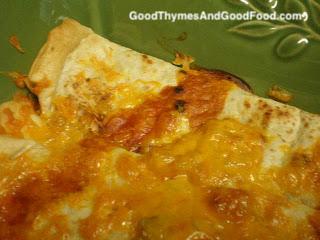 Cook the beef over medium heat, then add black beans. Pour in water, vinegar, chili powder, and cumin.
In a large skillet, saute onion until tender, do not let the onion brown. Mix in flour and green chilies and cook for 2 min, stirring.
Stir in 2 cups of Monterey Jack cheese and sour cream and cook for 10 minutes over low heat, stirring often until melted and combined. Set aside and let cool.
In a large heavy skillet, heat the olive oil (or coat with cooking spray). Using tongs dip the tortillas, one at a time, into the oil for 30 seconds on each side (Using the flour tortillas and cooking spray it was only a few seconds on each side.). Drain on paper towels.
Preheat the oven to 375 degrees F (190 degrees C).
Spread 4 tablespoons of the sour cream mixture down the center of the tortilla. Top with about the same amount of beef. Roll up and place seam side down in one or two 8×11 inch baking dishes. Repeat for each tortilla. Continue until you are out of the filling. Sprinkle with remaining Monterey Jack cheese.
Bake enchiladas for 30 minutes or until the cheese is melted and bubbles appear.
Serve with favorite toppings. I like a bed of shredded lettuce underneath and olives, cheese, and sour cream on top. Yum!