The other day I saw this Meatloaf without breadcrumbs recipe and had to have it. I looooove meatloaf. I tried this one out tonight and it was very, very good: it stayed together beautifully. We enjoyed mashed potatoes and roasted broccoli on the side. It was a hearty, filling dinner!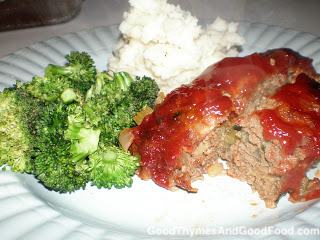 Originally posted on Good Thymes and Good Food in 2008 and updated in 2021.
Here is also my another recipe for the meatloaf – an easy, 5 ingredients meatloaf (with crumbs this time).
Ingredients
3 ounces Monterey Jack cheese, grated on small holes of a box grater (about 1 cup)
1 tablespoon unsalted butter
1 medium onion, chopped fine (about 1 cup)
1 medium rib celery , chopped fine (about 1/2 cup)
1 medium clove garlic, minced (about 1 teaspoon)
1 teaspoon paprika
1/2 cup low-sodium chicken broth
2 large eggs
1/2 teaspoon unflavored gelatin (powdered)
1 tablespoon soy sauce
1 teaspoon Dijon mustard
2/3 cup crushed saltines
1 1/2 teaspoons table salt
2 tablespoons minced fresh parsley leaves
1/2 teaspoon ground black pepper
1 pound ground chuck
1 pound ground sirloin
For Glaze:
1/2 cup tomato sauce
1 teaspoon hot pepper sauce
1/2 teaspoon ground coriander
1/4 cup cider vinegar
3 tablespoons packed light brown sugar
Directions
This recipe is without breadcrumbs.
Heat oven to 375 degrees.
Spread the Monterey Jack cheese on a plate and place in the freezer until ready to use.
Prepare a baking sheet: cover a broiler pan with 2 layers of aluminum foil and make holes in it so fat can drain. Then put the pan in another pan to catch drips and prevent your oven from smoking you out of the house.
In a skillet over medium-high heat heat the butter, then add celery and onion, and cook, stirring occasionally, until beginning to brown.
Add garlic, and paprika and cook for about 1 min, stirring, until fragrant. Transfer the mixture to a small bowl and set it aside to cool.
Whisk broth and eggs in a large bowl until combined. Sprinkle gelatin over liquid and let stand 5 minutes.
Stir in mustard, soy sauce, saltines, parsley, salt, pepper, and onion mixture. Crumble frozen cheese into coarse powder and sprinkle over mixture. Add ground meat; mix gently with hands until thoroughly combined, for about 1 minute.
Transfer meat to foil rectangle and shape into 10 by 6-inch oval about 2 inches high. Bake 55 to 65 minutes. Remove meatloaf from the oven and turn on the broiler.
For glaze:
In a small saucepan combine all ingredients for the glaze and bring to simmer over medium heat and cook, stirring, until thick and syrupy, about 5 minutes.
Spread half of glaze evenly over cooked meatloaf with rubber spatula; place under broiler and cook until glaze bubbles and begins to brown at edges, about 5 minutes.
Remove meatloaf from the oven and spread evenly with remaining glaze; place back under the broiler and cook until glaze is again bubbling and beginning to brown, about 5 minutes more.
Let meatloaf cool about 20 minutes before slicing. (I only let it rest for about 5 minutes. We were starving!!)