I love meatloaf, I already posted one recipe (without breadcrumbs), so today I'll eat it again, but this time I'm feeling quite lazy, so here we go for an easy meatloaf Recipe with few Ingredients, in fact, it will be only 5 main ingredients for meatloaf and a simple glaze.
I took out a lb. of ground beef yesterday because I knew we were having chicken a lot this week, I just didn't know what I was going to do with said ground beef. Nothing really sounded good to me until I thought about meatloaf. Mmm, meatloaf and mashed potatoes…one of my favorite comfort food meals. And fairly easy to put together. So away I went! I used my mom's recipe and the best part about this recipe is definitely the sauce. So yummy!! Enjoy.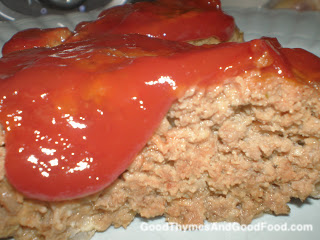 5 Ingredients for an easy meatloaf
These are approximations. Do what looks right to you.
Meatloaf:
1 lb. ground beef
2 tbsp. ketchup
1 tbsp. mustard – regular yellow or spicy
1/4 – 1/2 c. dried breadcrumbs (Rolled oats, crackers or bread will all work, too.)
1 egg
*salt and pepper to taste
Glaze:
about 1 c. ketchup (you can substitute it with tomato sauce)
2 tbsp. Worcestershire sauce
1/4 c. brown sugar
Directions
For meatloaf:
Preheat oven to 350 degrees F (180C).
Combine all ingredients and mix well.
Line cake pan with aluminum foil.
Transfer meat mixture to lined pan and shape into a loaf.
Bake 1 – 1 1/2 hours.
In the last half hour, cover meatloaf with sauce.
For glaze:
Combine ingredients, bring to a bubble, and reduce heat. Use this for the last half hour of cooking. I always make sure to have extra for serving.
Again, these are approximations. I like my sauce fairly sweet.
We also had mashed potatoes. Nothing fancy!!
Another recipe without breadcrumbs and with tomato sauce is here – I really love meatloaf 🙂