I have no idea why I hadn't made Oatmeal Coconut Chocolate Chip Cookies up until this point. The whole difference is that you bake in a cast-iron skillet, doesn't it add some charm?  I definitely do not use my skillet enough (How in the world are you supposed to properly clean and season that thing?!) so this was a perfect opportunity to break it out.
Oatmeal Cookies in a skillet are when you mix up your cookie dough as normal and then press it into a greased skillet and bake. It saves so much time, right – it is all done in 30 minutes!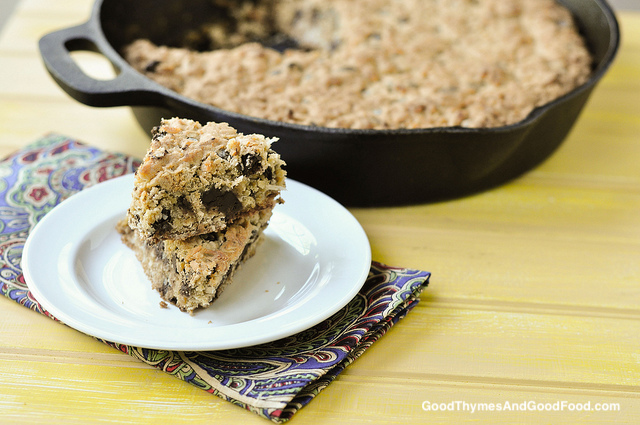 Originally published and photo made by Good Thymes Good Food in 2013.
Ingredients
1 cup unsalted butter (2 sticks)
¾ cup firmly packed brown sugar
¾ cup granulated sugar
2 large eggs
1 tsp. vanilla extract
2 ¼ cups flour
2 tsp. baking powder
1 tsp. baking soda
1 tsp. salt
2 cups old-fashioned rolled oats
2 cups sweetened flaked coconut (choose what you like: toasted or untoasted)
2 cups chocolate chips (semi-sweet or dark chocolate)
Directions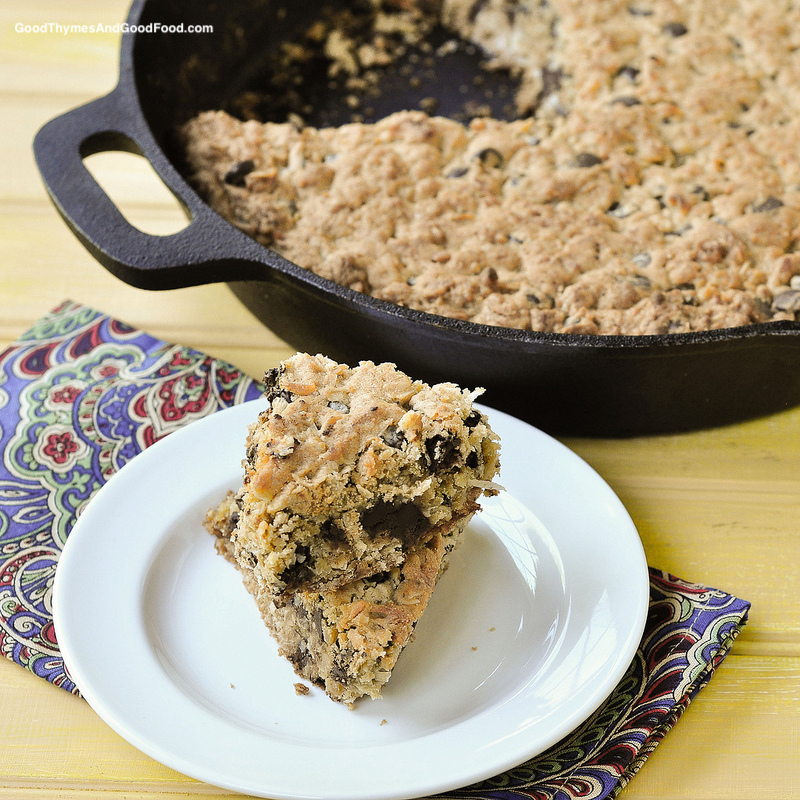 Preheat the oven to 375º F and grease a 10 or 12-inch cast-iron skillet (or a 9×9″ glass baking dish); set aside.
In a bowl beat the butter and sugar for 3 min until it's light and fluffy. Scrape down the bowl and beat again for 30 seconds. Beat in all eggs, one at a time, and vanilla, scraping down the sides of the bowl if needed.
In a medium bowl, whisk together baking powder, flour, salt, and baking soda. Slowly add the flour mixture to the butter mixture and mix until almost combined.
Add oat and coconut, and mix well until no flour streaks are remaining. Stir in chocolate chips making sure that everything is well combined.
Press the cookie dough evenly over the bottom of the prepared skillet and bake for 30-40 minutes, until golden brown and a toothpick or a cake tester comes out with only a few crumbs attached.
Cool before slicing.