Quick test: do you like comfort, hearty, Mexican food? If the answer is yes, you're in the right place – the Texas Roadhouse knows very well how to make us happy (they mastered it since 1993) and here we go with a thick, spicy and smokey, delicious Texas Roadhouse Chili Recipe, which is the copycat of the original recipe.
Jump to the Texas Roadhouse Chili Recipe
The best thing about this Chili recipe is that it is very easy, quite fast and it tastes better than you can imagine, especially if you're a chili lover! Also, the Texas Roadhouse Chili will make every mom happy, as you can make a large batch and refrigerate it!
Quick note about Texas Roadhouse:
Texas Roadhouse is a restaurant chain famous for its steaks and ribs, side dishes, and especially chili. They started with one restaurant in Indiana back in 1993, but today the steakhouses are opened in over 500 locations in 49 states. Texas Roadhouse also has stores in South Korea, the Philippines, Taiwan, Qatar, Mexico, UAE, Bahrain, Saudi Arabia, and Kuwait.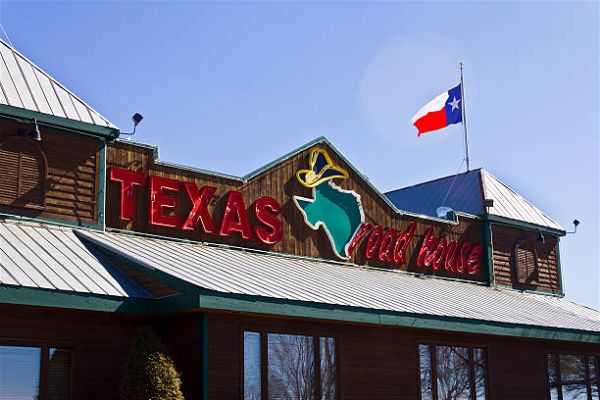 ---
Ingredients
For 8 servings:
4 pounds ground beef ( the best for chili is chuck)
3 tablespoons canola oil (you can also use olive oil)
2 tablespoons diced garlic (about 4 cloves)
1 cup yellow or white onion (diced)
2 teaspoons chili powder (you can add up to 4 tablespoon)
1 1/2 ground cumin seeds
1 tablespoon smoked paprika (Spanish paprika)
1/8 teaspoon black pepper
2 teaspoons kosher salt
1 tablespoon Italian seasoning blend
1 tablespoon brown sugar
2 cups crushed tomatoes
2 (15 ounces) cans of red kidney beans
1 tablespoon vinegar (I used white)
1/4 cup jalapenos (sliced and seeded)
1/8 teaspoon crushed red pepper flakes
2 tablespoons masa harina (or corn tortilla flour)
1 cup shredded cheddar cheese
1/2 cup red onions (diced)
To substitute ground beef you can use 2-4 pounds beef stew.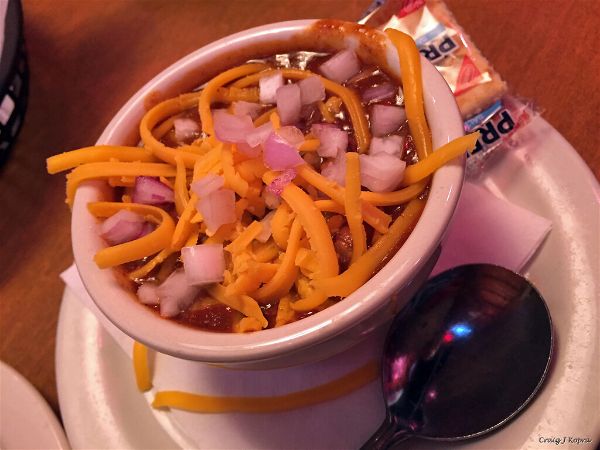 Directions
In general, the recipe is really easy! You can have the restaurant style chili at home for less than an hour and basically in 4 main steps: prepare the meat, the onion, mix the seasoning and simmer everything. The main part of this recipe is enjoying food in the end with toppings like sour cream, cheese, salsa, chips or cornbread.
Remember that original recipe always has more meat than beans, but you are free to adapt the recipe based on your preferences!
Time: 55 min
Cut beef chuck into 1/2 inch cubes.
Preheat a skillet with oil. Cook the onion and garlic in a skillet with the oil until the onion is translucent (for about 2 min).
Reduce the heat to medium-high, then add the beef cubes and brown them, stirring constantly.
Once the meat has browned slightly (with no red showing), lower the temperature to medium.
Add Italian seasonings, chili powder, smoked paprika, cumin, brown sugar, vinegar, tomatoes, beans, black pepper, salt, diced jalapenos, and red pepper flakes. Mix well and simmer for 10-35 min.
Add corn tortilla flour (or masa harina) to help thicken the chili and cook for another 10-15 min. or until the consistency is thicker.
Serve and top with sour cream, shredded cheese, tortilla chips, and avocado slices.
Alternatively, you can simmer all the ingredients without flour for 35–40 minutes and only then add the flour and simmer for another 15 minutes.
---
How to make chili taste better?
Make your own chili seasoning instead of buying one: combine ground chilies and spices: oregano, garlic powder, cumin, onion powder, cayenne, etc. – add spices you like!
Use fresh ingredients instead of canned where it is possible.
Need a tangy flavor? Add a teaspoon of vinegar: you can use sherry, balsamic, cider, or cane vinegar.
If you want a more hearty dish, add meat (ground meat or seared beef cubes) or roasted vegetables (squash, sweet potato, lentils, and other beans), or chickpeas if you're vegetarian.
Top with fresh herbs, I love cilantro and I will always add it when the chili is done.
What to Serve With Texas Roadhouse Chili?
Chips and salsa
Guacamole, sour cream, cheese
Green salad
Cornbread – here is my fav dill cheddar cornbread
Coleslaw (I love making this Pineapple coleslaw)
How does long Texas Roadhouse Chili last?
Your chili will be fine for 3-4 days in the fridge and for 4 to 6 months if you freeze it. If you want to refrigerate/freeze the Texas Chili right after cooking, wait for 2 hrs. and use an airtight container.
Don't let your chili sit outside the fridge for more than 2 hours, as it will be the perfect conditions for bacteria growth and your future poisoning.
If you cooked vegetarian option of chili, you'll not be able to store it for a such a long period of time, as veggies keep consistency worse than meat-based chili.
The best and easy way to defrost frozen chili is to use a microwave with defrost setting for 3 min. Only then you can heat it over medium, stirring before serving.