Qdoba Chicken is basically a copycat recipe for Mexican style marinated, juicy, and rich in flavor boneless and skinless chicken. Qdoba chicken recipe can be part of delicious burritos, tacos, quesadillas, sandwiches, bowls, or can be served as it is.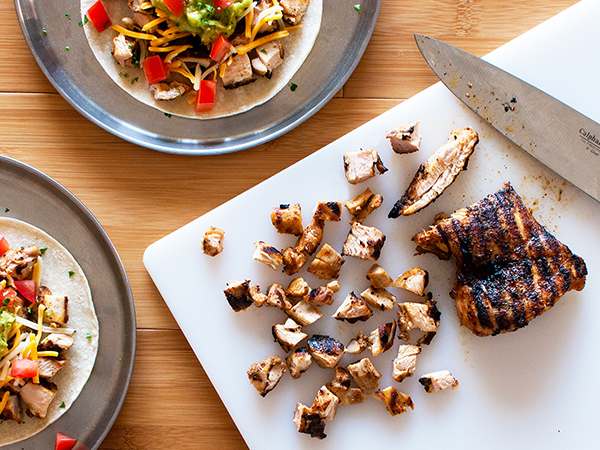 It is an easy recipe, but it takes a little bit of patience, as we need to marinate our chicken. The best way to make tender, moist, flavorful chicken is to let it marinate for 24 hrs (overnight).
This recipe of Qdoba Chicken is gluten-free and dairy-free.
If you're wondering how does Qdoba Chiken tastes like – it is similar to Chipotle grilled chicken but a little bit spicier. 
Quick note about Qdoba
This chicken recipe is a copycat, as originally we all know Qdoba chicken from Mexican restaurant Qdoba. They operate in the US and Canada since 1995 and let us enjoy delicious Mexican food: burritos, fajitas, tacos and a lot of chicken.
They have gluten-free, low-carb, low calories, vegan and keto options to make sure you will still enjoy your favorite food no matter what!
---
Ingredients
For 4 servings:
2 lbs boneless skinless chicken breasts pounded thin (you can also use thighs)
2-3 cloves garlic minced
3 tablespoons olive oil or any other vegetable oil
2-3 tablespoons adobo sauce from a small can of Chipotle peppers
1-2 tablespoon chili powder
1 teaspoon cumin
3/4 – 1/2 teaspoon oregano or Italian seasoning
1 teaspoon salt
1/2 teaspoon black pepper
Optional for marinade (any of the ingredient):
1 onion
Juice from one fresh orange and one fresh lime OR 1 tbsp apple cider vinegar, lime juice for marinade OR Red wine vinegar about 2 tbsp.
1 tbsp tomato paste for a marinade
Dijon mustard about 2 tbsp.
TO SERVE:
cilantro, chopped
lime, sliced
---
Directions
The recipe is extremely easy and all the ingredients are simple. You will need some patience and time to let the chicken marinate and also do not overcook it if you want to have juicy and tender meat. Feel free to experiment with marinades, as I gave you few options to choose from.
Cook Time: 40 min Time to marinate: up to 24-48 hrs
In a ziplock bag or a large bowl combine chicken, garlic, 2 tbsp olive oil, adobo sauce, and seasoning, cover with plastic wrap and refrigerate for 30 minutes or up to 2 days. Make sure, the chicken is fully covered with spices.
Preheat the remaining 1 tablespoon oil in a large pan or grill over medium-high heat.
Cook chicken, turning regularly until the chicken is golden brown and completely cooked through, for about 6-7 minutes on each side. The temperature should be 165F (75C). Sometimes it can take up to 25 min to cook the chicken completely, it depends on the size and thickness of the meat.
Remove the chicken and let it cool for 5-15 minutes.
Top with cilantro and lime juice. Serve with rice, in a burrito, in a salad, chopped or sliced. Enjoy 🙂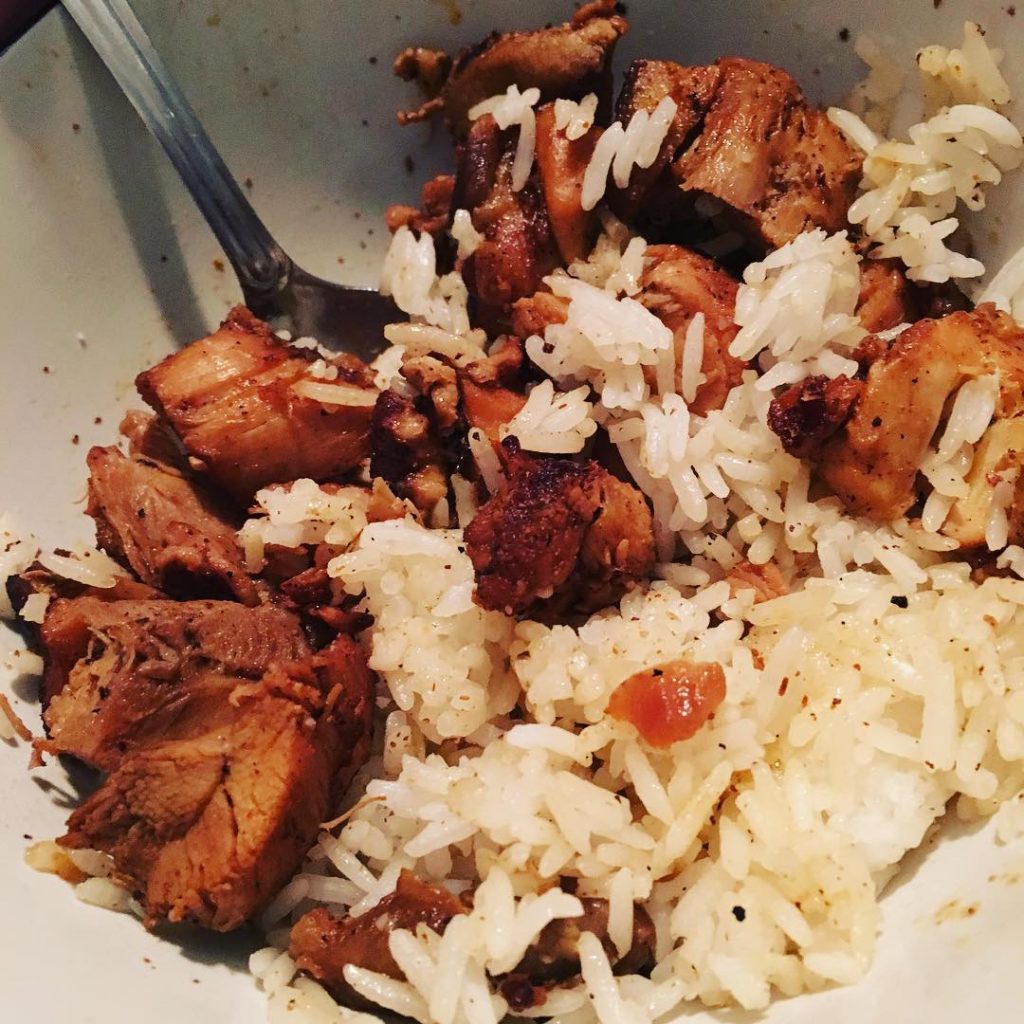 ---
How to make the Qdoba chicken recipe better?
Once you placed the chicken in the ziplock bag and mixed well with spices, you can use a rolling pin and flatten the chicken to let the chicken be marinated smoothly.
You can mix all spices, onion, tomatoes with a blender or food processor to form a liquid paste for the marinade.
Allow chicken to marinate in the fridge for 24 hours, the chicken should be covered with a lid or firmly sealed in a ziplock.
If you want to make the chicken juicy and tender inside, preheat the pan for at least 2-3 minutes, this way, the heat will seal the chicken from the outside.
Always let the Qdoba chicken cool before slicing.