I have a confession.  I like Cilantro Lime Rice Recipe but there was a time that I would have said that I didn't like Chipotle.  This was several years ago, I went and had burritos because everyone kept saying how amazing they were.  I felt like it was sub-par.  Perhaps I ordered incorrectly because I was definitely wrong.  I do, indeed, like love Chipotle. The carnitas? Out of this world. The rice? Delicious.  Guacamole? A must.  So yes, I was wrong.  And now we eat Chipotle almost every week when we go to Trader Joe's.  Phew. I feel better after that confessional.
This rice is very, very close to what you will have at the restaurant.  It's full of lime and cilantro and I have to be careful not to eat the entire batch before dinner is served. 😉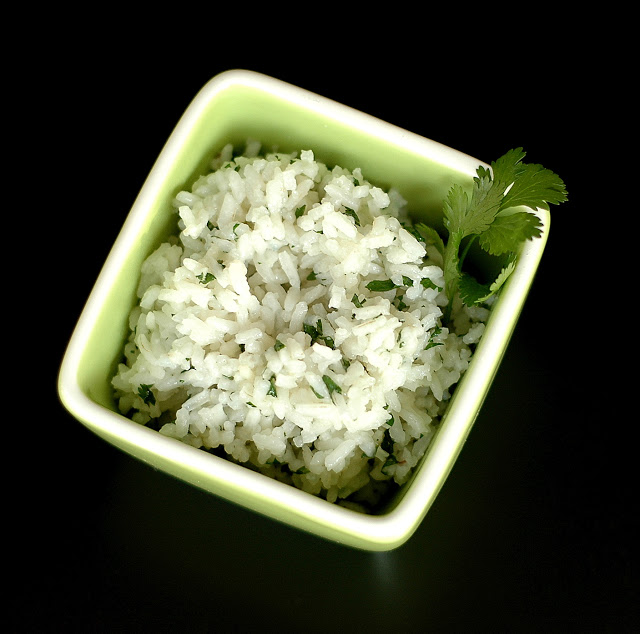 Cilantro Lime Rice Ingredients
1 cup long-grain rice
2 cups of water or chicken stock
3 tsp. vegetable oil, divided
1 tsp. salt
juice of 1 lime
3 tbsp. fresh chopped cilantro, more or less to taste
Directions
1. In a medium saucepan add rice, water or chicken stock, 1 teaspoon oil, and salt.
2. Boil on high until most of the water has evaporated (watch closely).
3. When the water or chicken stock just skims the top of the rice, reduce the heat to low and cover for about15 minutes.
4. Turn off the and keep covered an additional 5 minutes, or until tender.
5. In a medium bowl, rice, lime juice, cilantro, and remaining oil. Toss until completely combined.