I usually try to make bread at home, it takes time but the efforts are worth the taste of a homemade loaf. Mostly, we are eating sandwiches. I have tried several sandwich bread recipes but this American Sandwich Bread from America's Test Kitchen is by far my favorite.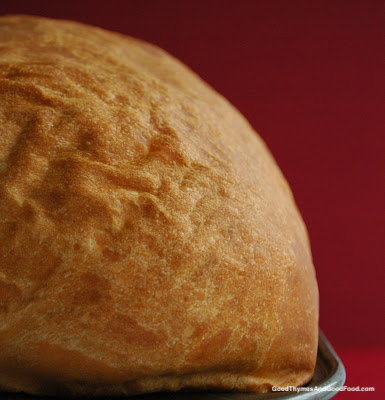 It's slightly sweet, tender, but sturdy enough for sandwiches. I find that the dough turns out perfectly every time, producing beautiful loaves of bread. Normally, I make the bread, slice it, and freeze it in half loaf quantities, taking out as much as I need for a few days. I don't know that I'll be able to keep up with our bread eating habits forever, but for now, I'm happy to be making one more food item at home!
I've been meaning to post a few things that I've learned about yeast as I've worked with it more. So here they finally are. You might remember that I truly feared yeast and sandwich bread but I am much, much more confident in that aspect now.
Here are a few things that I've learned (about yeast in general and this particular sandwich bread):
In recipes, they always call for warm water or milk to activate the yeast, anywhere from 110-120 degrees. I don't know about you, but that's not warm – that's kind of hot. Definitely use a thermometer to test the temperature but when I first starting making bread my water was definitely not hot enough.
I turn my oven to 200 degrees and let it warm up for just a few minutes so that the bread can rise inside of it. I turn the oven off after a few minutes but if it gets too warm, I open the door to let some heat escape. I always let my dough rise in the oven and haven't had one problem with it rising. Just make sure that the oven is barely warm.
For this recipe, in particular, it calls for you to pat the dough into a 9-inch square in order to fit the rolled loaf into a 9-inch loaf pan. Well, every time I used a 9-inch square, I ended up with a much too long roll. I tried tucking the ends in as I went, but then I ended up with bulging ends of bread. So now I pat it out into about a 7-inch square, roll it tightly, and it fits perfectly and is well-shaped. Definitely try it at the 9-inch size, maybe it's just me…but if not, try a smaller square and see if that works better for you.
And finally, don't be afraid! Practice, practice, practice! The dough is usually pretty forgiving and with time you will learn what it should feel like and look like. Have fun!
Here is how I pat out and then roll my dough into a cylinder:

American Sandwich Bread Ingredients
1 cup milk, warm
1/3 cup water, warm
3 tbsp. + 1 tsp. unsalted butter, divided
3 tbsp. honey
3 3/4 cup bread flour, plus more for workspace
2 1/4 tsp. instant or rapid-rise yeast
2 tsp. salt
Directions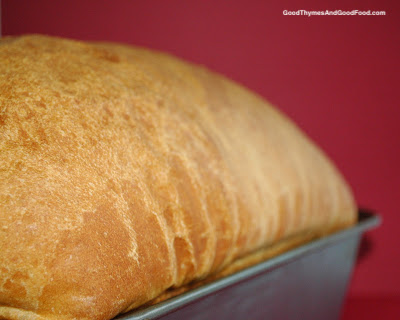 In a large liquid measuring cup whisk together the milk, water, 3 tablespoons butter, and honey. Microwave or put into a saucepan to heat until liquid is warm (115-120 degrees) and butter is melted.
In the bowl of a stand mixer, mix 3 1/2 cups flour, yeast, and salt together using the dough hook. At low speed pour carefully in the milk mixture and mix well for 1 min until the dough comes together, scraping down the sides of the bowl.
Increase the speed to medium-low and kneed until the dough is smooth and elastic, about 7 minutes. If after 4 minutes, more flour is needed, add the remaining 1/4 cup, 1 tablespoon at a time. A good dough will stick to the bottom of the bowl but not its sides.
Once the dough is smooth and elastic, remove and knead by hand to form a smooth round ball. Place dough in a lightly oiled bowl and wrap with plastic wrap. Let the dough rise until doubled in size, for 1 to 1 1/2 hours (put the dough in a warm place).
Once the dough has doubled in size, turn it out onto a lightly floured workspace and press into a 7-inch square. Starting with the edge closest to you, roll it into a tight cylinder, tucking the ends in but maintaining the cylinder shape. Pinch the seam closed and place seam side down in a 9-inch loaf pan. Cover with plastic wrap and allow to rise in a warm place until doubled in size, 1 1/2-2 hours
Heat the oven to 350 degrees F and place the oven rack in the middle position. Brush the top of the dough with melted butter. Fill another loaf pan halfway with water and place it on the rack. Place dough-filled loaf pan next to the water-filled pan and bake for 40-50 minutes until bread is golden and an instant-read thermometer measures at 200 degrees.
Let bread cool in the pan for 30 minutes before removing it to a wire rack to cool completely.