We were hosting a friends' night, as always, and I decided to make Strawberry Rhubarb Tart, as I knew not everyone likes chocolate cakes. Well, I was scared to death of making a pie crust!! I hadn't done that before and I didn't want the dessert to be a flop.
It ended up being a strawberry rhubarb tart that was DELICIOUS! The crust was pretty simple, although I didn't feel like it made enough to cover my tart pan. Maybe I have a larger than normal tart pan? In the end it was fine! Rustic, but fine!!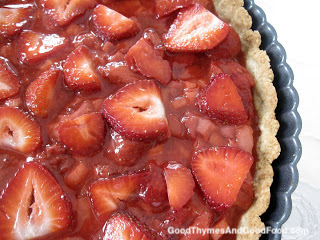 Strawberry Rhubarb Tart Ingredients
Filling
2 c. diced fresh rhubarb
3 c. fresh strawberries, sliced, divided
1/4 c. sugar
1/2 tsp freshly grated lemon zest
1 1/2 Tbsp cornstarch
1 Tbsp cold water
Crust
1/2 c. old-fashioned rolled oats
3 Tbsp 1% milk
1/2 tsp vanilla extract
2/3 c. whole wheat flour
1/4 c. sugar
1 tsp freshly grated lemon zest
3/4 tsp baking powder
1/4 tsp salt
2 Tbsp canola oil
Directions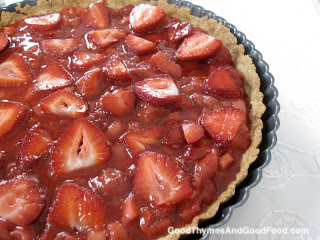 Combine rhubarb, 1 c. strawberries, sugar, and lemon zest in a large nonreactive saucepan. Let stand for 20 minutes.
Bring to a simmer over medium-low heat and cook for 5-8 min., stirring regularly until it's tender but still keeps the shape.
Meanwhile, stir cornstarch and water in a small bowl until smooth. -Stir into the simmering fruit.
Cook, stirring constantly, until the mixture is clear and very thick, about 1 minute.
Transfer to a bowl, cover with plastic wrap and let it chill in the fridge.
To prepare crust & assemble tart:
Preheat oven to 350 degrees.
Spray the tart pan with a removable bottom (I use a 9-inch) with a cooking spray.
Bake oats in a small baking dish for 10-15 min, stirring, until oats are toasted. Let cool.
Place the oats in a food processor and process until finely ground.-Combine milk and vanilla in a small bowl. Whisk the ground oats, flour, sugar, lemon zest, baking powder, and salt in a large bowl, then drizzle with oil and stir well until the mixture is crumbly.
Use a fork to stir in the milk mixture, 1 Tbsp at a time, until the dough just comes together.
Flour the work surface, then transfer the dough and knead 7 to 8 times. Roll the dough, flouring it, out to an 11-inch circle. Transfer to the prepared pan, pressing to fit.
Trim the edges. Line the tart shell with a piece of foil or parchment paper and fill it with pie weights or dried beans. Bake the tart shell until set for 10 to 12 minutes.
Remove the foil and weights and bake for 8 to 12 minutes more until the tart is lightly browned.
Cool in the pan on a wire rack.
Right before serving, spread the filling evenly into the tart shell.
Arrange the remaining 2 c. strawberries decoratively over the filling.