I went to clean out the freezer the other day and realized that I had 5 bags of frozen bananas! Holy cow! We eat a lot of bananas, but there is almost always one or two left over at the end of the week that are just too brown to eat. It was obviously time to bake some banana bread. And this Easy Banana Bread Recipe was at on perfect time!
I have tried a couple of different recipes, but I always come back to this Banana Bread Recipe. It just always turns out! I doubled the recipe and the banana bread turned out great! This bread has the best texture, perfectly moist but not sticky. And I have never made the strudel topping.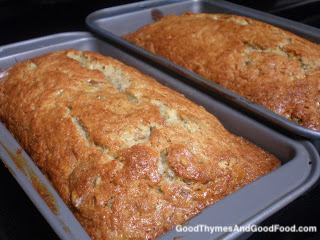 Banana Bread Ingredients
2 cups all-purpose flour
1-1/2 teaspoons baking powder
1/2 teaspoon baking soda
1/4 teaspoon salt
1/4 teaspoon ground cinnamon
1/8 teaspoon ground nutmeg
2 eggs, beaten
1-1/2 cups mashed banana (5 medium)
1 cup sugar
1/2 cup cooking oil (you can substitute it with melted butter or margarine)
1/4 cup chopped walnuts
1 recipe Strudel-Nut Topping (optional)
Directions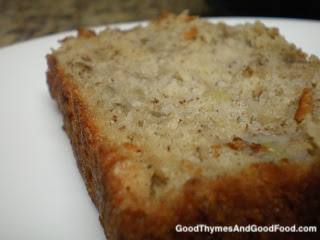 Preheat oven to 350 degrees F. Grease the bottom of the loaf pans (I use one 9x5x3-inch pan or two 7-1/2×3-1/2×2-inch loaf pans). Set them aside.
In a large bowl mix salt, flour, baking powder, baking soda, cinnamon, and nutmeg. Make a well in the center of the flour mixture and set it aside.
In a medium bowl combine mashed bananas, eggs, sugar, and oil. Add egg mixture all at once to flour mixture. Stir just until moistened (batter should be lumpy). Fold in nuts.
Spoon batter into prepared pan(s). If desired, sprinkle Strudel Topping over batter.
Bake for 45 (for 7-1/2×3-1/2×2-inch loaf pans) or 60 minutes (for 9x5x3-inch pan) or until a cake tester or a wooden toothpick inserted near the center of the bread comes out clean. If the bread begins to browner, cover it with the foil for the last 15 minutes of baking.
Cool in pan on a wire rack for 10 minutes. Remove from pan. Cool completely on a wire rack. 7. Wrap and store overnight before slicing. (I can't even wait that long!)
Makes 1 loaf (16 slices)
Strudel-Nut Topping:
In a small bowl combine 1/4 cup packed brown sugar and 3 tablespoons of all-purpose flour. Using a pastry blender, cut in 2 tablespoons butter until mixture resembles coarse crumbs. Stir in 1/3 cup chopped walnuts.