Apricot Glazed Pork Tenderloin was one of the first recipes that got me very interested in food. I used to make it a lot when I first started cooking, but I hadn't made it in a while.
The sauce is what is so great about this. Apricot preserves and Dijon mustard – so yummy! I love to make extra sauce, as I really like to dip the meat into it and I definitely recommend it to you if you like juicy meal!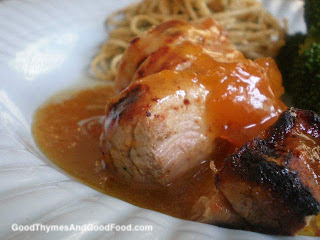 Ingredients
Serves 4
2 pork tenderloins (about 12 oz piece). You should trim off excess fat
1 tablespoon olive oil
Coarse salt and ground pepper
1 jar (10 to 12 ounces) apricot jam, (about 1 Cup)
1/4 cup spicy brown mustard
Directions
Heat broiler; set rack 4 inches from heat.
Line a rimmed baking sheet with foil.
Rub pork with oil; season with salt and pepper. Broil 10 minutes.
Meanwhile, whisk mustard and jam in a small saucepan. Cook for 3-4 min at medium heat (until jam is melted), then remove from the heat.
Transfer half to a small bowl for brushing. Cover pan to keep remaining sauce warm.
Remove pork from broiler; brush with reserved sauce.
Return pork back to broil for 5-10 min. until it is blackened in spots and the temperature is 150 degrees F.
Cover the meat with foil (not tightly) and let it sit for 5 minutes before slicing.
Serve drizzled with warm sauce.