Biscuits can be such finicky things:  dry, tasteless, crumbly.  Or they can be light, fluffy, and full of layers of buttery, golden tastiness.  Cheddar Buttermilk Biscuits are definitely the latter.  They are so full of cheese and buttermilk that you can't help but fall in love with every bite.
Using your food processor brings them together quickly and then a quick roll with the rolling pin and you will have them in the oven and on the table in no time. Cheddar Buttermilk Biscuits are great for breakfast with jam (I like with strawberry jam), for dinner, and for snacks.  🙂  A quick reheat in the microwave and they were delicious every time.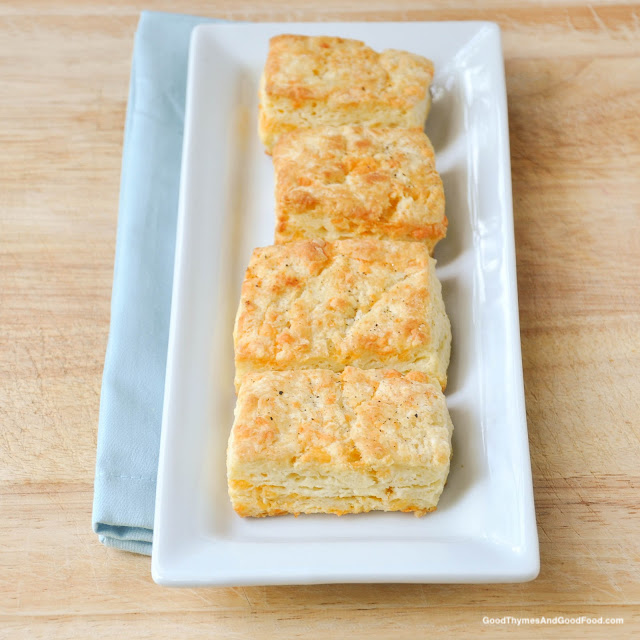 Cheddar Buttermilk Biscuits Ingredients
2 cups all-purpose flour, plus more as needed
1 tbsp. baking powder
1 ½ tsp. kosher salt
12 tbsp. (1 ½ stick) cold unsalted butter, diced
½ cup cold buttermilk, shaken
1 large egg
1 cup grated extra-sharp Cheddar
1 egg, beaten with 1 tbsp. water
DIrections
Preheat the oven to 425° F and line a sheet pan with parchment paper and then set aside.
Place 2 cups of flour, baking powder, and salt in the bowl of a food processor fitted with the blade. Add butter and pulse at low speed until it is the size of peas.
In a small glass measuring cup, combine the buttermilk and egg and beat lightly with a fork.
Pour the buttermilk mixture into the flour, and mix only until the mixture is moistened. In a small bowl, toss the cheddar with a small handful of flour and add the cheese to the dough. Mix only until roughly combined.
Transfer the dough to a well-floured surface and knead 6 times to form a ball. Using a floured rolling pin, roll the dough into a rectangle, about 10×5 inches.
Cut the dough lengthwise in half, then cut it across in quarters to make 8 rough rectangles (use a sharp, floured knife to make the process easier).
Transfer to the prepared sheet pan and brush the tops with the egg wash. Bake the biscuits for 20 to 25 minutes, until they are cooked through and their tops are golden browned.