As I've said before, we are big breakfast people, especially on the weekend. We love both savory and sweet dishes, it just depends on the mood. I don't think that we have a clear favorite, although an omelet is always on the top of my list. When it comes to pancakes, we have our favorite – Blueberry Cornmeal Pancakes.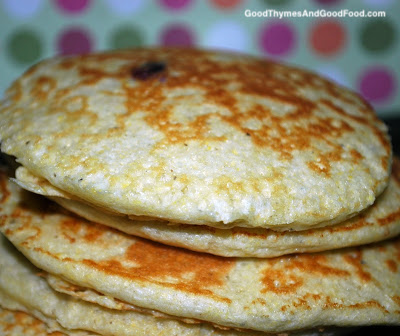 I thought that they sounded interesting and they definitely were! The blueberries were delicious of course, adding a little sweetness and tartness to the batter. Adding the yolks and whites separately was not something that I've done before but it made the batter much lighter. Overall, though, the star was definitely the cornmeal! It was such a surprise to get that little bit of a crunch and then a slight corn taste, almost like cornbread but not quite. These are definitely all pancake but with a twist. 🙂
Blueberry Cornmeal Pancakes Ingredients
1 cup all-purpose flour
3/4 cup cornmeal
2 tbsp. sugar
1 1/2 tsp. baking powder
1/4 tsp. salt
3 eggs, yolks, and whites separated
1 1/2 cups milk
1 tbsp. lemon juice
3 tbsp. melted butter cooled
1 cup fresh or frozen blueberries, plus 1 tbsp. flour
butter for greasing the pan or griddle
Directions
Preheat the oven to 200 degrees. Mix the dry ingredients in a large bowl. Whisk together the egg yolks, milk, lemon juice, and butter in a separate bowl. In another bowl, beat the egg whites until fluffy and soft peaks form.
Add the liquid ingredients to the dry ingredients and stir until just combined. Toss the blueberries with a tablespoon of flour and add them to the batter. Fold the egg whites carefully into the batter, do not over-mix.
Preheat a nonstick pan or griddle over medium heat. Coat with butter and pour batter onto the surface. (Any size pancake is fine.)
Let cook until many bubbles form across the surface of the pancake and then flip to the other side. Cook until brown and keep warm in the oven. Continue until all pancakes are cooked. Serve hot.