If I had it my way we would eat a large, unhealthy breakfast every day of the week. But since that's not a great choice, we don't. 🙂 I try to keep the large breakfasts to just the weekends, so when I woke up one morning and all I could think about were some kind of breakfast potato, I was so happy that it was the weekend! Time for Breakfast Scramble.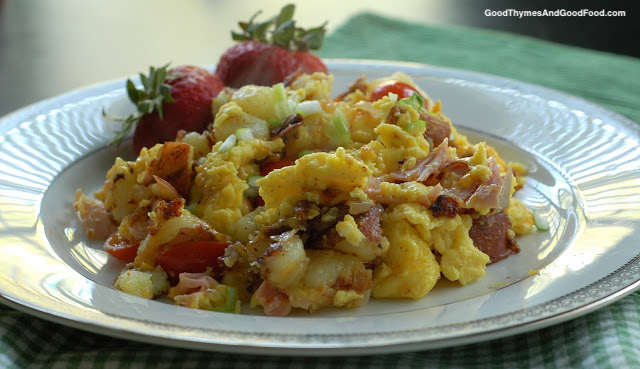 I do love any kind of potato for breakfast: hash browns, home fries, even leftover mashed potatoes browned in a buttered skillet, but since I didn't want to shred potatoes and we didn't have any mashed potatoes leftover, home fries it was! I started the potatoes in the microwave just to cut down on the cooking time, whipped up some scrambled eggs, chopped some ham, shredded some cheese, and heated it all together.
We absolutely devoured this breakfast. It was so tasty with the crisp potatoes, soft & cheesy eggs, and salty ham. It was perfect with some sweet peach-apricot marmalade and toast.
Everyone has their favorite way of preparing scrambled eggs so while I did list general instructions below, obviously feel free to make this anyway that you would like.  Just be sure that you do indulge and have this for breakfast one day (or dinner!).
Breakfast Scramble Ingredients
2 medium potatoes, washed
1 tbsp. vegetable or canola oil
Kosher salt and black pepper
1 tbsp. butter
4 large eggs, beaten with 1 tbsp. water
4 slices deli ham, cut into 1-inch pieces
1/3-1/2 cup extra sharp cheddar, shredded
1/4 cup cherry tomatoes, sliced in half
2 tbsp. green onions
Directions
Poke clean potatoes with a fork a few times and microwave on high heat for 5-7 minutes, until mostly cooked through.  Cut into 1/2-inch pieces, leaving the skin on the potatoes.
Heat the oil in a large skillet over medium to medium-high heat.  Add potatoes and cook, turning every few minutes until browned and crispy on all sides.  Season to taste with salt and pepper
In another large skillet, melt butter over medium to medium-low heat and add eggs.  Cook until soft and still slightly runny (eggs will finish cooking with potatoes).  Add chopped ham, cheese, tomatoes, and green onions.  Season with salt and pepper.
Add the eggs to the potatoes and allow to finish cooking.
source: Good Thymes original recipe