Well, even that title "Cinnamon Sugar Donut Muffins" is a mouthful!
I discovered this recipe while searching for a Snickerdoodle cupcake recipe. As soon as I saw Cinnamon Sugar Donut Muffins recipe, I knew I had to have them. Right then. Luckily it was still morning! (Not that the time of day would have stopped me.)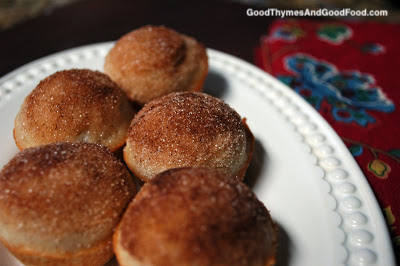 While these are definitely muffin in shape, they take on a clear donut taste and texture. Dipping these in melted butter and then cinnamon & sugar took them to a delicious level because they were pretty good without that extra step! The extra step is most definitely worth it, though! These came together in such a snap that it was no problem to quickly coat these. I did not roll the entire muffin in the mixture, just the tops, but you could certainly roll the whole thing! I am making these again soon – definitely, something to keep in mind with the holidays approaching and company visiting!
Cinnamon & Sugar Donut Muffins Ingredients
1-3/4 cup flour
1-1/2 teaspoon baking powder
1/2 teaspoon salt
1/2 teaspoon nutmeg
1/2 teaspoon cinnamon
1/3 cup vegetable oil or applesauce
3/4 cup sugar
1 egg
3/4 cup milk
Topping:
1/4 cup butter
1/3 cup sugar
1 tablespoon cinnamon
Instructions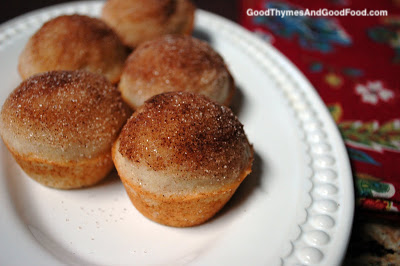 Preheat oven to 350°
Combine salt, flour, baking powder, cinnamon, and nutmeg, and set the mixture aside.
Mix sugar with oil, egg, and milk, then mix in the dry ingredients until blended.
---
For standard size muffins:
 Spray muffin pans with non-stick cooking spray and fill each cup 1/2 full. Bake for 15-20 min. (8-12 muffins)
For mini muffins:
Spray mini pans with nonstick spray and fill each mini cup with the batter half full. Bake for 10-12 min. (18-24 muffins)
---
Meanwhile, melt the butter. Mix 1/3 cup sugar and 1 1/2 tablespoon cinnamon in another bowl.
Remove muffins from the oven, let cool for just a minute or two, remove from pan and place them on a platter.
Dip each muffin top in the melted butter then roll in cinnamon and sugar.
Let cool or serve warm.