I'm to go ahead and say what anyone else who makes chocolate muffins says: Triple Chocolate Muffins are only an excuse to eat chocolate cake for breakfast.  Cliche? Yes.  True?  Yes.  🙂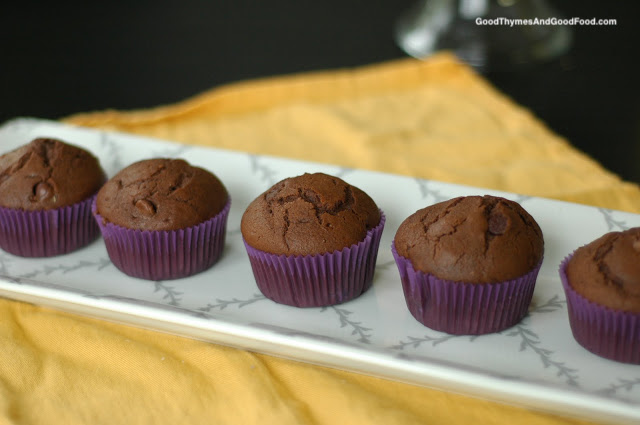 These Triple Chocolate Muffins are full of chocolatey goodness. You start with unsweetened chocolate, then add semisweet and bittersweet chips to the batter to round out these bundles of chocolate overload.  While they are full of sweetness they really aren't that sweet, they won't leave you with a toothache.  They are just tender, full of flavor muffins that are great for dessert or with a cup of coffee!!
Triple Chocolate Muffins Ingredients
makes 16-18 standard size muffins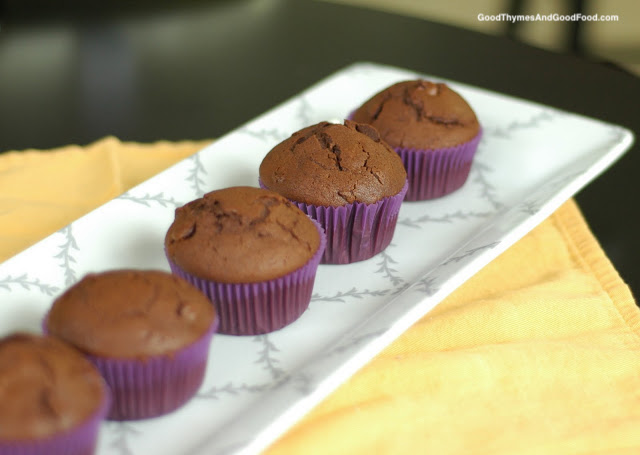 1/2 cup unsalted butter
3 ounces unsweetened chocolate
2 1/4 cups all-purpose flour
1 tsp. baking soda
1/4 tsp. salt
1 cup buttermilk
1 cup sugar
2 eggs
1 tsp. vanilla
3 oz. milk chocolate chips
3 oz. semisweet chocolate chips
Directions
Preheat the oven to 375 degrees and grease or line muffin tins and set aside.  In a small saucepan over medium-low heat, melt butter and unsweetened chocolate.  Let cool to room temperature.
Meanwhile, in the bowl of a stand mixer, beat sugar, eggs, buttermilk, and vanilla together at a low speed until well combined.
Sift flour, salt, and baking soda together.  Add egg mixture to the cooled chocolate mixture and blend well.  Slowly add in the flour mixture and beat until smooth.  Fold in chocolate chips.
Fill muffin tins 2/3 full with batter.  Bake for 20-25 minutes, begin checking at 18 minutes. A tester should come out with only a few crumbs attached.