It's no secret that I love Pinterest but sometimes it's more evil than good.  By that, I mean that I will be seriously trying to stick to a meal plan and then I'll see the Southwest Avocado Chicken Salad recipe that I just have to make right then.  Right then!  (Is that just me?)  Or I'll see a craft that I must try and I have to go to the hobby store ASAP.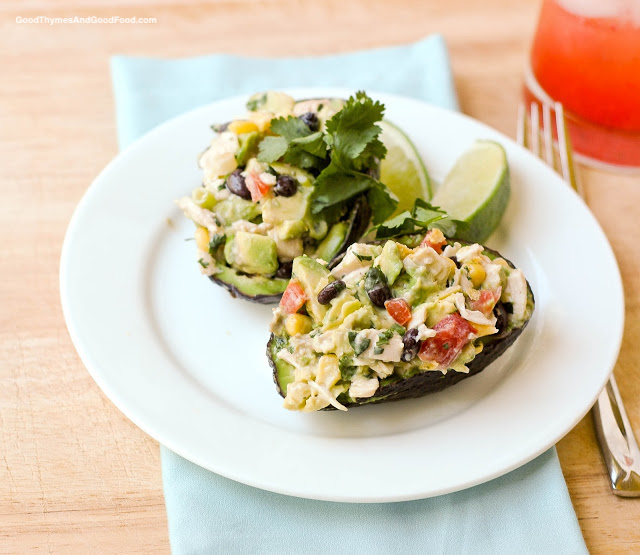 I knew this would be a winner solely because it included avocado but then you add in black beans, chicken, corn, tomato, cilantro, and lime juice and I nearly fell over with each delicious bite.  The addition of crushed-up tortilla chips gives it a nice and needed crunchy texture.  
Southwest Avocado Chicken Salad would be good over couscous or with quinoa, as well.  It would even be great over some crunchy romaine lettuce.  I cannot wait until the rest of my avocados ripen up so that I can make this again and again.
Southwest Avocado Chicken Salad Ingredients
Serves 2-3
1 chicken breast, cooked and shredded
⅓ cup corn
⅓ cup black beans, rinsed and drained
2 scallions, thinly sliced
1 small tomato, diced
¼ cup cilantro, minced
¼ cup tortillas chips, crushed
2 tbsp. white wine vinegar
4 tbsp. mayonnaise
 juice of ½ lime, plus more for serving
Kosher salt and freshly ground black pepper, to taste
2-4 avocados, sliced in half with pits discarded, diced and skins saved for serving (only dice avocado as needed to preserve freshness and prevent browning)***
Tortilla chips, crushed
Directions
In a medium bowl, toss the chicken, corn, black beans, green onions, tomatoes, and cilantro together. Add the vinegar, mayonnaise, and lime juice to the mixture and stir to coat. Add salt, pepper, and more lime juice to taste.
Spoon into halved avocados and top with the desired amount of avocado and crushed tortilla chips. Serve immediately.
***To preserve avocado, leave the pit in half or portion that is not being used, rub the flesh of avocado with a lime wedge, and press plastic wrap firmly to the surface. Store in the refrigerator wrapped and cut side down.