In this post I have 2 recipes: Keto buffalo chicken dip and my version of classic Buffalo Chicken Dip.
Once someone brought Crack Dip for our friends gathering. I mean Buffalo Chicken Dip. It was so, so, so good. Oh my goodness. After I tried it, I kept eyeballing the dish to see if there was any left! Yum! I have finally found a reason to make it at home. Buffalo dip is a perfect TV show watching food. Too bad it's all pretty much bad for you! 🙂 Try this and enjoy. And then see why it's nickname is Crack Dip.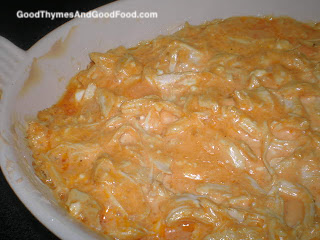 BUFFALO CHICKEN DIP INGREDIENTS
3 boneless skinless chicken breast (I used 2 bone-in, skin-on chicken breast)
1 jar Marzetti's blue cheese or ranch (I used about 3/4 of the jar.)
1/4 cup Nance's buffalo wing sauce mild
1 8-oz.pkg. cream cheese softened (I used about half of the package.)
Tabasco sauce (optional)
KETO BUFFALO CHICKEN DIP INGREDIENTS
1 lb. boneless skinless chicken breasts (or boneless skinless chicken thighs)
1 cup (8 oz.) Frank's Original
¼ (4 oz.) cup water
1 package (8 oz.) cream cheese
1 cup (8 oz.) shredded cheddar cheese
¼ cup ranch dressing (or ½ packet of dried ranch dip mix)
optional: 1 (4oz.) can diced green chiles
Directions
For BUFFALO CHICKEN DIP:
Boil chicken until tender (let cool). (I roasted and pulled the chicken from the bone and removed the skin. Then I shredded it.)
Then shred or chop finely.
Mix together dressing and Buffalo sauce.
Use Tabasco sauce to fire it up to your desire.
Spread cream cheese in a 9×13 baking dish.
Mix chicken into the dressing. Then pour the chicken mixture over cream cheese evenly.
Bake at 350 degrees F (180C) for 20 minutes.
Let cool and serve with tortilla chips.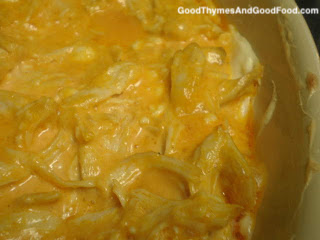 For KETO BUFFALO CHICKEN DIP:
In Instant pot:
Boil chicken breast. If you're using an instant pot, cook for 15 minutes on the MEAT/STEW function with Franks Original and water, shred when it's done. Remove from the instant pot.
Add the cream cheese, shredded cheddar, and ranch dressing, stirring until cheese is melted and the mixture is smooth.
Transfer the shredded chicken back to the pot. Stir until everything is combined. If you want, add in green chiles.
Top the dip with blue cheese crumbles sliced green onions, and serve with Keto Tortilla Chips, celery, keto crackers, keto bread, cheese crips or pepper slices.
Without instant pot:
If you're boiling the chicken in the regular pot, remove the skin and bones, shred the chicken and boil it until tender.
Mix together ranch dressing and Frank's original. Add in shredded chicken.
In a 9×13 baking dish spread the cream cheese and shredded cheddar over the bottom.
Pour the chicken mixture over cheese evenly.
Bake for 20 minutes at 350 degrees F (180C), then let it cool and serve.