Cream Cheese Dill Dip is something perfect if you want to stay home for New Year's Eve and get together with some neighbor friends. I made this Cream Cheese Dill Dip as part of our appetizer spread. It was really easy and very good. Perfect to have this with crackers and vegetables.
It is tasty and a great appetizer!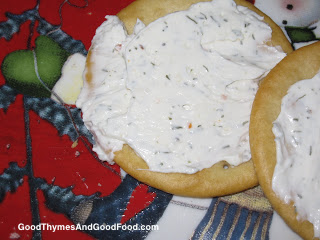 Ingredients
1 8-ounce package cream cheese, softened
1 8-ounce carton dairy sour cream
2 T finely chopped green onion (1)
2 T snipped fresh dill or 2 tsp dried dill weed
1/2 tsp seasoned salt or salt
Milk (optional)
1-2 tsp. lemon juice (I thought it needed "freshness".)
This time I made Dill Dip with cream cheese and sour cream, but you can substitute it with greek yogurt, and even add ranch dressing.
Directions
In a medium mixing bowl, beat cream cheese, sour cream, green onion, dill, and seasoned salt or salt with an electric mixer on low speed till fluffy.
Cover and chill for 1 to 24 hours. (If you have the time, definitely let it sit overnight.)
If dip thickens after chilling, stir in 1 or 2 T milk.
Serve with vegetables, crackers, or chips.