I love Garlic Roasted Chickpeas so much that I want everyone to try them! They are such a healthy little snack – a great alternative to chips or pretzels. They are crispy on the outside and soft & chewy on the inside. I like them best warm from the oven but they are just as good the next day.
I like my roasted chickpeas with olive oil, salt & pepper, garlic powder, and a little cayenne for spice. You can spice these any which way, though. That's the beauty of them! You could probably even use cinnamon and sugar to make them a little sweet. I haven't tried them like that, but I might have to! Definitely give these a try the next time you are looking for an easy snack!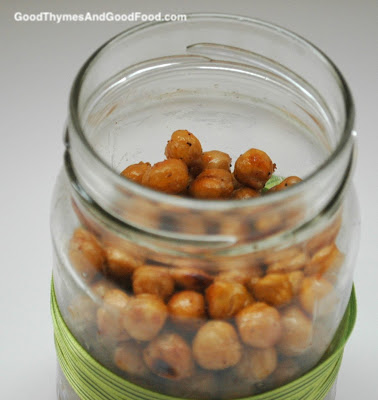 Ingredients
1 12 oz. can chickpeas, drained, rinsed, and dried
1 tablespoon olive oil
Kosher salt
black pepper
3/4 tsp. garlic powder, more or less to taste
pinch cayenne pepper, more or less to taste
Directions
Heat the oven to 450 degrees.
Spread chickpeas on a large baking sheet. Toss with olive oil, salt, pepper, garlic powder, and cayenne. Be sure that chickpeas are in a flat layer.
Bake in the oven for 15 minutes. After 15 minutes, check chickpeas for the desired doneness. Shake pan to move chickpeas around.
Continue to bake for another 15 minutes, checking after every 5 minutes to make sure they do not burn.
Remove from oven and let cool for a few minutes before eating.