One of our favorite food is a BBQ and specifically pulled pork. I picked this Slow Cooker Pulled Pork with Griddle Corn Cakes recipe because there were the griddle corn cakes.  It sounded so different and so interesting that I just had to try them.  In the end, they almost stole the show from the pulled pork!  We loved them and I'm pretty sure that's a hearty and comforting dinner.  Griddle corn cakes are definitely a nice alternative to a hamburger bun.
This is definitely a meal of ease by way of the slow cooker and makes a large batch.  Next time you need to feed a crowd or stock your freezer, give this one a try.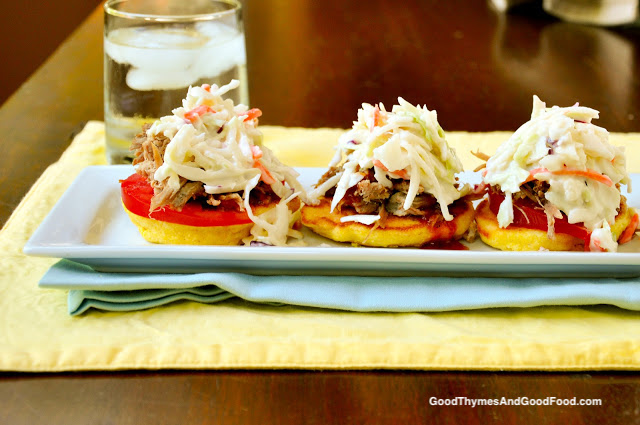 Ingredients
½ medium onion, sliced
 ~2-3 lbs. boneless pork shoulder
½ cup beef broth, water, or your favorite BBQ sauce
2 tbsp. white vinegar
For the barbecue sauce:
½ cup ketchup
⅓ cup water
2 tbsp. white vinegar
2 tbsp. Worcestershire sauce
1 tbsp. brown sugar
½ tbsp. liquid smoke
2 tsp. garlic powder
1 tsp. salt
2-3 dashes of hot sauce
Freshly ground black pepper
Griddle Corn Cakes:
1 cup self-rising cornmeal (not cornbread mix)
½ cup all-purpose flour
¾ cup milk
3 tbsp. unsalted butter, melted
1 large egg, lightly beaten
½ tbsp. sugar (optional)
Directions
Place onion slices in the slow cooker and set pork shoulder on top of the onions.
In a small microwave-safe bowl, whisk together all of the ingredients for the sauce and then microwave it for 45 seconds. Pour it evenly over the pork shoulder.
In a separate bowl or measuring cup, combine the beef broth and the remaining 2 tablespoons of vinegar. Pour around the (not ON) shoulder. Cover with lid and cook on low for 8 hours. (After 6 hours, you can start basting the meat with the liquid in the pot every 30 minutes.) Using two forks, shred the meat inside the slow cooker.
With the lid off, but the slow cooker set to its lowest setting, let the liquid reduce. Serve immediately on hamburger buns or cornbread cakes.
For Griddle Corn Cakes:
Stir together all ingredients in a large bowl until just moistened.
Heat a large nonstick skillet over medium-high heat (or set an electric skillet to 350°F), and pour 2 tablespoons of batter for each cake. Cook cakes for 2 to 3 minutes or until tops are covered with bubbles and edges look dry. Turn and cook another side (about 2 minutes).
Serve immediately.