Hands down, pulled pork is one of our favorite meals.  If my boyfriend got to choose, I think he'd eat that (happily) every day.  I've only recently come to even like it, still never actually wanting it but these are the things that we do for those that we love.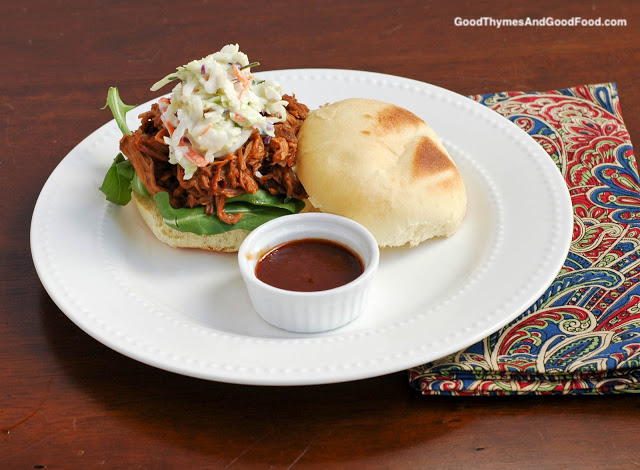 I had to check out The Pioneer Woman's Food Network show and one of the dishes that she made was this pulled pork.  Not only is it pulled pork but it also incorporates Dr. Pepper and we don't really drink it but it was in our fridge! So here we are – Dr. Pepper Pulled Pork with Cilantro Slaw!
The pork cooks slowly in the oven for several hours, leaving you with fall-apart goodness that is just a touch sweet, super flavorful, and amazing.  We are not in favor of super spicy foods so I cut way down on the amount of chipotle peppers that were used.  
Instead of the full can that the recipe called for, I used 1 pepper and a little of the sauce.  When I buy a can of peppers, I usually freeze the peppers individually because I never use the whole can at once.  That's just too much heat for us.  🙂  With that being said, there was no heat in our pork so I might up the amount next time for just a hint of heat.  
Vary the amount of spices based on your preferences!
I made a Dr. Pepper BBQ to go with our sandwiches because I found the cooking liquid to be far too oily.  If you have the time, you can store the cooking liquid in the refrigerator and wait for it to separate.  I did do that and after I skimmed off the fat, the remaining sauce was delicious but with the Dr. Pepper BBQ sauce, I didn't even use the cooking liquid.  
The cilantro slaw is also delicious and paired just perfectly with the pork.  The slaw is crunchy, fresh, and the cilantro adds a nice bite to the finished product.
Ingredients
For the pork: 
1 onion, peeled and quartered
1 pork butt (pork shoulder roast), about 4 lbs.
Kosher salt, to taste
freshly ground black pepper, to taste
1 can chipotle peppers in adobo sauce ( I use a little, but you can use as much as you like it spicy or not)
24 oz. (2 cans) Dr. Pepper
2 tbsp. brown sugar
Buns for serving
For the slaw:
½ head cabbage, thinly sliced
½ head purple cabbage, thinly
½ cup milk
½ cup mayonnaise
1 tsp. white vinegar, plus more to taste
1 tbsp. granulated sugar, plus more to taste
¼ tsp. kosher salt
2 cups cilantro leaves, barely chopped
For the BBQ sauce:
½ onion, minced
¼ cup vegetable oil
2 cups Dr. Pepper
1 (15 oz.) can tomato sauce
⅓ cup cider vinegar
¼ cup honey
¼-½ cup brown sugar
Kosher salt and freshly ground black pepper, to taste
Directions
For Dr. Pepper Pulled Pork:
 Preheat oven to 300°F. Place onions in the bottom of a large, oven-safe Dutch oven.
Generously sprinkle pepper and over the pork roast, then place it on top of the onions.
Pour in the desired amount of chipotle peppers over the pork (include the sauce.) Add in Dr. Pepper and brown sugar, stir to combine.
Cover the pot and place it in the oven. Cook for at least 6 hours, turning roast 2 – 3 times during the cooking process. Check meat after 6 hours; it should be falling apart (use two forks to test.) If it's not falling apart, return to the oven for another hour. Meanwhile, prepare slaw and BBQ sauce.
Remove meat from the pot and place on a cutting board or another work surface. Use two forks to shred meat, discarding large pieces of fat. Strain as much of the fat off the top of the cooking liquid as you can and discard the rest.
Moisten meat with a small amount of cooking liquid and Dr. Pepper BBQ sauce. Keep warm until ready to serve.
For the slaw:
Place shredded cabbage in a large bowl. In a large measuring cup, mix milk, mayonnaise, vinegar, sugar, and salt. Pour over cabbage. Toss to combine. Cover and refrigerate for 2 hours.
Just before serving, toss in cilantro leaves and season to taste.
For the BBQ Sauce:
Heat a medium saucepan over medium heat. Add in oil until hot, then add in onions. Cook until onions are soft and translucent, 5-7 minutes. Add Dr. Pepper and tomato sauce to the pan and bring to a simmer.
Add in remaining ingredients and stir.
Simmer BBQ sauce, stirring frequently until sauce reaches desired consistency. Depending on preference, 60-90 minutes. Season to taste with additional sugar, salt, pepper, etc.
To prepare sandwiches, pile shredded pork on a toasted roll or bun, top with BBQ sauce and slaw. Enjoy!
---
I also have another recipe for pulled pork – Slow Cooker Pulled Pork with Griddle Corn Cakes – it is a very interesting recipe cause you'll make corn cakes! Perfect for slow cookers.