Barbecue sauces in restaurants always terrify me – how I can make something like this at home? Our local bbq restaurant makes delicious orange bbq sauce and that time I was cooking pulled pork and decided to try making my own orange sauce.
Plus, I'll share the recipe of pulled pork I made with orange bbq sauce and coleslaw.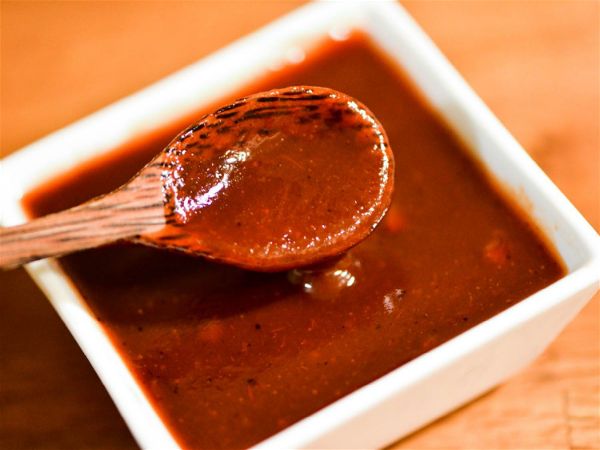 Ingredients
Juice of 1 large orange
2 tbsp. sugar
1 1/2 tbsp. olive oil
1 medium yellow onion, chopped (about 3/4 – 1 cup)
1 clove garlic, minced
1/2 cup ketchup
2 tbsp. lemon juice
1 1/2 tbsp. Worcestershire sauce
1 1/2 tsp. Dijon mustard
1/2 tsp. salt
1/4 tsp. ground black pepper
Directions
1.  In a small saucepan over medium heat, combine the orange juice and sugar and cook until dissolved.  Reduce the orange juice mixture to 2-3 tbsp., being careful not to scorch.
2.  Heat olive oil in a 2-qt sauce pan and saute onions for 5 minutes; add garlic and cook until fragrant, 20-39 seconds.
3. Stir in the orange reduction and remaining ingredients and simmer for 5 minutes. Transfer to a food processor or blender and puree until smooth.  Set aside.
---
How to cook meat with Orange BBQ Sauce?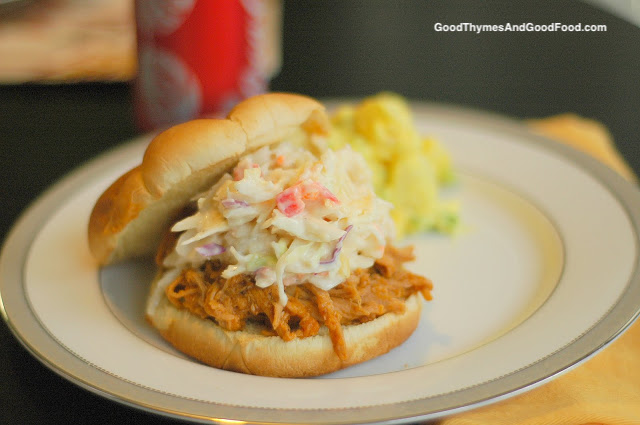 The pulled pork was one of those dishes that I kind of never thought to make at home. To make such tender, flavorful pork in my own kitchen I needed Orange barbecue sauce.
For this recipe all you need is a slow-cooker and a few ingredients and you'll have delicious pulled pork at home, too.
One of the main reasons that I chose to go with this recipe was because I was able to use pork tenderloin as the source of pork.  We were in the process of moving and I didn't want an abundance of leftovers and the tenderloin gave us the perfect amount for just a few meals.  I'm sure you could make this with a larger cut of meat, just double or even triple the amount of barbecue sauce.
Oh, and coleslaw is a must for me when it comes to bbq.  We had this pineapple coleslaw with our sandwiches.
To cook pulled pork with orange bbq sauce, you'll need homemade orange barbecue sauce (follow the directions above) and to cook pulled pork in a slow cooker:
Ingredients for pulled pork:
1 tbsp. ground black pepper
1/2 tsp. cayenne pepper
1 tbsp. chili powder
1 tbsp. ground cumin
1 tbsp. dark brown sugar
1/2 tbsp. dried oregano
4 tbsp. paprika
1 tbsp. table salt
1/2 tbsp. granulated sugar
1 4-5 lb pork roast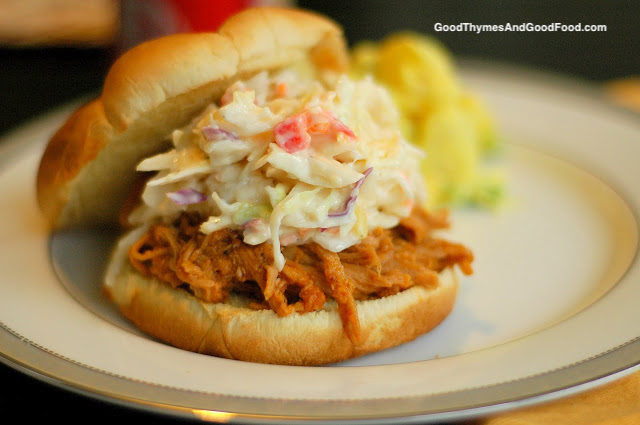 Mix all spice rub ingredients in a small bowl and then massage spice rub into meat. Wrap tightly in a double layer of plastic wrap and refrigerate for at least 3 hours. (For stronger flavor, the roast can be refrigerated for up to 3 days.)
Unwrap pork and place it in the slow cooker with 1/2 cup water. Turn slow cooker to low and cook for 6-8 hours, until meat is fork-tender. Transfer roast to cutting board and discard the liquid from the slow-cooker. Shred the meat by hand or using forks and discard fat.
Return the shredded meat to the crock and add 1/2 cup orange barbecue sauce. Simmer on low for 30-60 minutes, until hot. Serve with additional barbecue sauce.
I love serving pulled pork in sandwiches, but you are free to enjoy the meat and the sauce your own way! 🙂