As I was looking through some magazines, I saw this recipe for carbonara and did something that I never do. I went to the store RIGHT THEN and retrieved the needed ingredients for  dinner that same night.
I am not really a more-than-once-a-week-shopper. I make a meal plan, shop once, and don't go back to the grocery store!
But I have to say that this Pasta with Pancetta and Peas was so worth it because this may have been the best pasta dish I've ever had – dining out or at home. It was rich, creamy, and just delicious. It's a must-try, in my opinion.  Although I was worried about the carbonara aspect – the eggs and all, it really was SO good!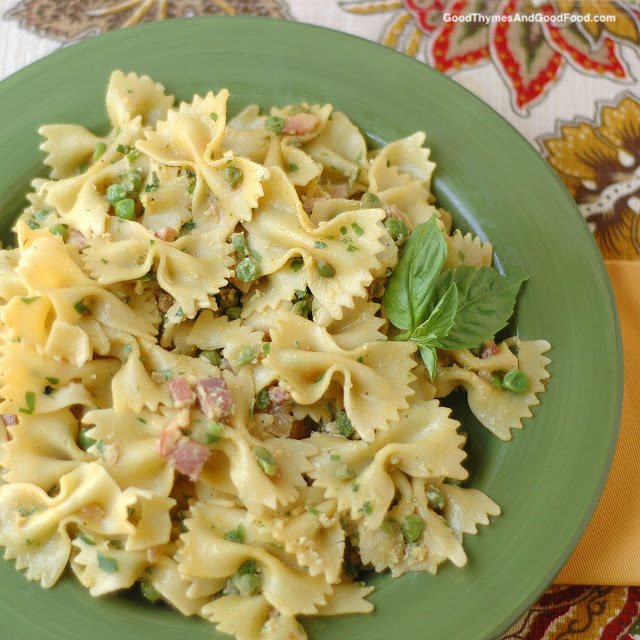 Ingredients
2 eggs
3/4 cup grated Parmesan cheese
1/2 tsp. Kosher salt
Freshly ground black pepper
1 tbsp. parsley, minced
1 clove garlic, minced or pressed
2 tbsp. unsalted butter
2 tbsp. olive oil
2-3 oz. pancetta – thick-cut pancetta works better for this dish 
1/4 cup onion, chopped
1/2 cup frozen peas
1/2 lb. pasta
Quick notes about pancetta
Pancetta is a salume made of pork belly meat that is salt-cured with sometimes spices and herbs. It can be sold sliced or cubed.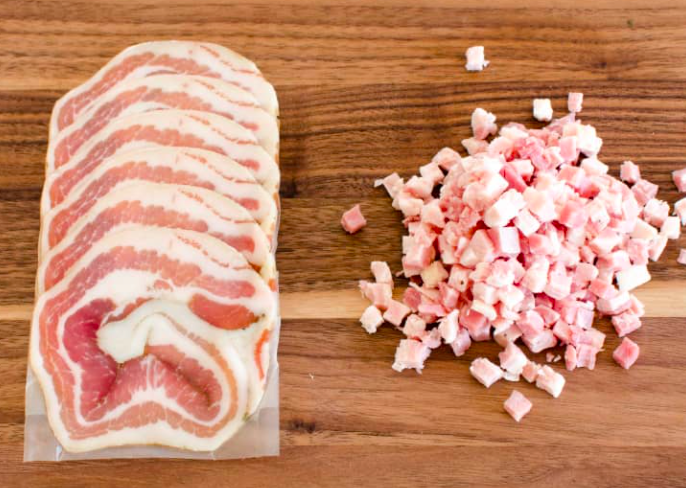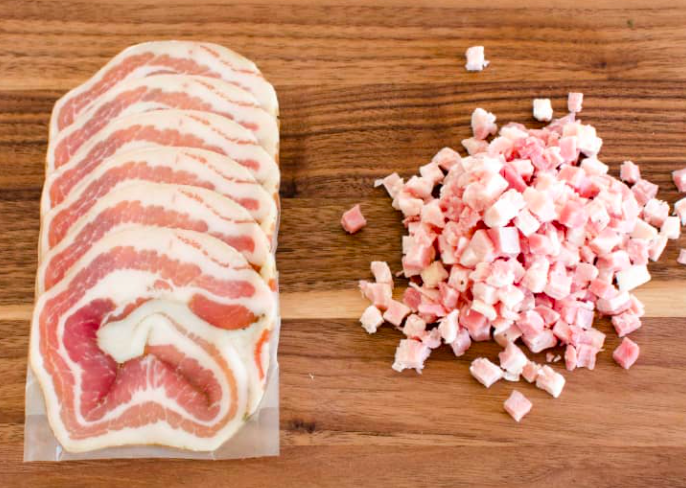 Pancetta may look like bacon or prosciutto, but it differs from its pork-based friends. Pancetta needs to be cooked before eating (just like bacon), but comparing to bacon it was never smoked, only cured in salt and spices.
Comparing to prosciutto, pancetta is made from different part of the pork (belly for pancetta, leg for prosciutto) and, as I said, pancetta needs to be cooked and goes for soups, pastas, risotto, wrapped around vegetables or other meat, but we eat prosciutto raw.
It means that basically you can substitute pancetta with bacon for this recipe and it will have more smoked flavor, but will stay delicious!
---
Instructions
This recipe is extremely easy: you cook all ingredients and you mix them, and serve with good amount of cheese (I love cheese).
Bring a large pot of salted water to a boil.
In a small bowl, beat eggs, parmesan cheese, salt, several twists of black pepper, parsley, and garlic in a bowl.
Meanwhile, in a large skillet over medium heat, melt butter and olive oil. Add pancetta, and onion and saute for about 10 minutes or until the onion is soft and the pancetta begins to become crisp. Add frozen peas, turn heat to low, and cover.
Cook pasta according to package instructions and drain and return to pot.
Add pancetta mixture to pasta and cook over low heat for 1 minute, tossing pasta to coat with oil and butter.
Remove from the heat and stir in egg and cheese mixture. Toss vigorously and top with freshly grate Parmesan and serve.
adapted from The Nest magazine, originally published on Good Thymes and Good Food in 2008 and recreated in 2021.
---
Frozen peas or fresh?
Fresh English peas are only available from the late spring to early summer, but you can always use frozen peas for this recipe: buy frozen peas or freeze fresh ones.
Choosing fresh peas, try to select green, sweet, well formed peas.
To store fresh peas in the refrigerator blanch the peas for 1 minute in boiling water, shock them in ice water, and drain. This way the peas will be good for up to 7 -10 days.
More pasta recipes: