Oh, roast chicken. You are a sight to behold in all your glory.  With crispy skin, juicy interior, and flavor throughout, you are magnificent. And I shy away from you. Why? Because you intimidate me. You are big, take a long time to cook, are messy, and just scary sometimes. You are Buttermilk Roasted Chicken.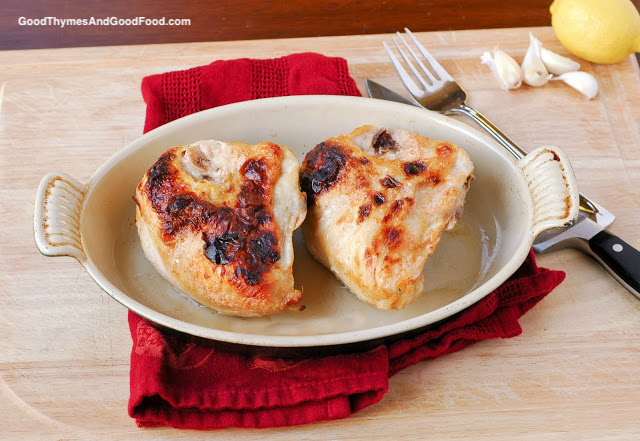 It's true. I love a good roast chicken as much as the next girl and it's not that they are hard to cook but they seem labor-intensive to me.  This is strange considering I make so much homemade bread and other sweets that take a lot of time. I don't know what it is about whole chickens.  :/
But alas!!  As soon as I came across this Buttermilk Roasted Chicken recipe that could use bone-in chicken breasts and buttermilk (because I always seem to have some leftover from another recipe), I knew I had a winner.
You get all the goodness of a whole roasted chicken but with only the breasts and a little less work – at least I think so.  The skin is crispy and the meat is tender, juicy, and full of flavor.
I suppose this next part could be construed as hypocritical when it comes to the labor intensive part because this recipe does call for an overnight brine.  But I swear, it's easy! Just throw it all together after dinner one night and the throw the chicken in the oven the next night!
Look, all I'm saying is that I liked this recipe and it will definitely make many, many more appearances in our kitchen.  You almost get the feel that this chicken is a rotisserie chicken, it definitely had some of those qualities so I can say that it's worth the little bit of extra prep time.
---
Buttermilk Roasted Chicken Ingredients
2 cups buttermilk
5 garlic cloves, peeled and smashed
1 tbsp. table salt
1 tbsp. granulated sugar
1 ½ teaspoons paprika, plus extra for sprinkling
Lots of freshly ground black pepper
2 ½ to 3 pounds chicken parts
Drizzle of olive oil
 Flaked or coarse sea salt, to finish
Lemons, for serving
Directions
Whisk buttermilk with garlic, table salt, sugar, paprika, and lots of freshly ground black pepper in a bowl. Place chicken parts in a gallon-sized freezer bag (or lidded container) and pour buttermilk brine over them, be sure to cover all parts. Refrigerate for at least 2 but preferably 24 and up to 48 hours.
When ready to roast, preheat the oven to 425°F. Line a baking dish with foil. Remove chicken from buttermilk brine and arrange in dish. Drizzle lightly with olive oil, then sprinkle with additional paprika and sea salt to taste.
Roast for 30 minutes for legs; approximately 35 to 40 for breasts, until brown and a bit scorched in spots.
Serve with lemon wedges.
---
What to serve with Buttermilk Roasted Chicken?
Rice or baby potatoes. I love Cilantro Lime Rice as I really love cilantro accents in the food.
Lemon wedges and fresh cilantro will add freshness and highlight the chicken flavor.
Dips or sauces you like. You can make it a Mexican-style night and serve Smoked Queso Dip, or my favorite dill dip with cream cheese (here is the recipe).
Roasted cauliflower – easy to make but so healthy and good!
Pasta salad – I find them very filling and pasta salads are such a comfort and easy to make food for me. Try my Greek Pasta Salad or Honey Lemon Pasta Salad Recipe.
Green salads with fresh veggies – if you're trying to eat healthier, choose more greens and vegetables, as they work great for your gut, helping it digest the food and clean itself.
More recipes with chicken:
and many more on my blog 🙂