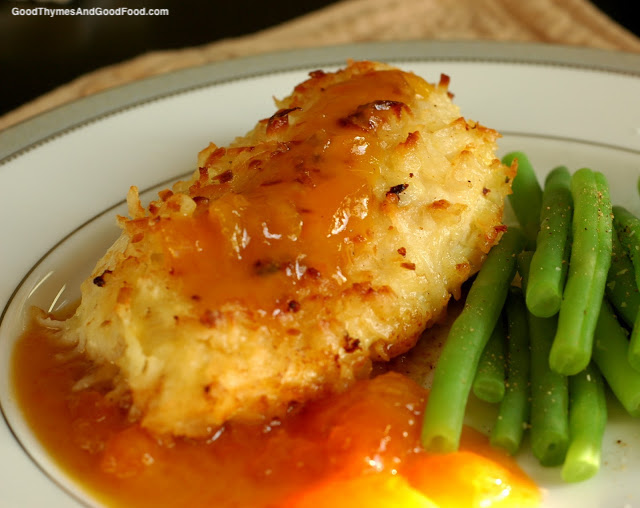 I don't think that I am alone when I say that I am always on the lookout for a new chicken recipe.  Chicken is such a versatile protein but I'm constantly looking for new ways to prepare it.
I'm not usually one for sweet dishes at dinner, I'm more of a savory girl, but when I saw this on Pennies on a Platter, I was very intrigued.  Long ago, one of the very first things I ever learned to cook was pork tenderloin with an apricot-mustard sauce.  Reading this recipe took me right back there.  🙂
Coating the chicken in coconut and then making a simple and delicious dipping sauce makes for a super easy dinner.  Especially since the entire thing in the baked in the oven – mostly hands-off!  This dinner packed a powerful flavor punch that we loved.  We will be having it again, for sure.
Coconut Chicken with Dijon-Apricot Sauce Ingredients
1 egg
1 cup sweetened, flaked coconut
1/2 cup flour
1/2 tsp. garlic powder
1/2 tsp. salt
1/4 tsp. black pepper
4 boneless, skinless chicken breasts
1/2 cup unsalted butter, melted
1/4 cup apricot preserves (or an apricot blend, such as peach-apricot)
2 tbsp. Dijon mustard
Directions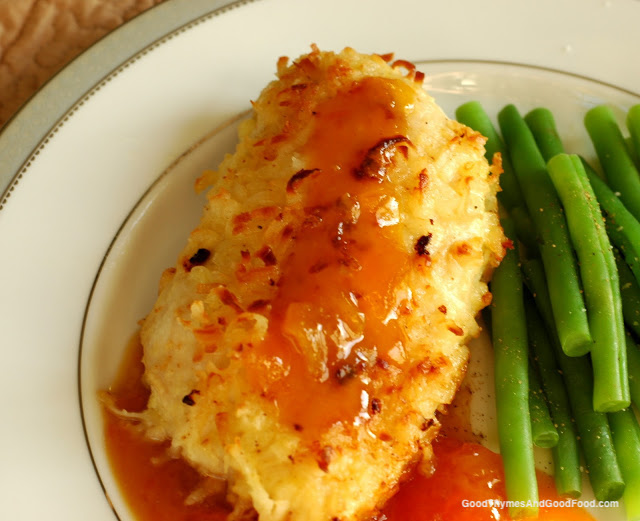 1.  Preheat the oven to 400 degrees and line a baking sheet with aluminum foil.
2.  In a medium bowl, lightly beat the egg; set aside.  In another shallow bowl, mix the coconut, flour, garlic powder, salt, and pepper.
3.  Working with one piece of chicken at a time, dip the chicken in the egg and then the coconut mixture, patting on the coconut mixture so that it sticks.
4.  Place chicken on the prepared baking sheet and continue with the remaining pieces.  Drizzle all the coated chicken with the melted butter and bake in preheated oven for 30-40 minutes, until chicken is cooked through.  If the chicken does not brown, place under broiler (watch carefully!) for 2-3 minutes.
5.  For the sauce, mix the preserves and the Dijon mustard together.  Serve at room temperature.