Like I always do, I bookmarked a bunch of recipes that had to go back and dwindle them down so that I could choose which one to blog for today's reveal.  I finally settled on this Spanish rice and beans recipe for several reasons.  The number one being that I love rice and my stomach feels amazing when I'm eating it. I also chose it because I've made other versions of this recipe in the past and they have definitely been less than stellar.  But this one is definitely a keeper.  
Everything just comes together so perfectly and with so much flavor. I ended up eating this as my main course the night that I made it.  I then stuffed it inside of tortillas with a little cheese and ate it!
Spanish Rice and Beans Ingredients
2 cups chicken or vegetable stock, or water
1 cup long-grain white rice, uncooked
2 tbsp. olive oil
½ medium onion, minced
½ bell pepper, any color, diced
3 cloves of garlic, minced or pressed
15 or 16 oz. (it is 1 can) black beans (drain and rinse them)
1 (4 oz.) can green chilies
¼ cup frozen corn
1 (15 oz.) can diced tomatoes, drained but liquid reserved
Kosher salt
freshly ground black pepper
1 teaspoon chili powder
1 teaspoon cumin
---
Directions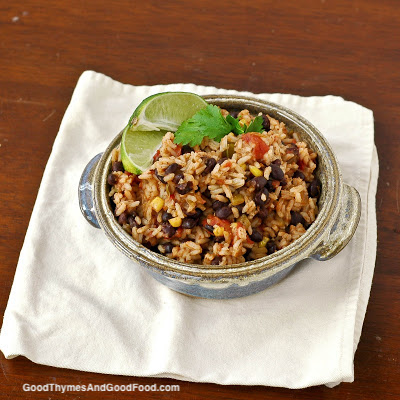 Bring 2 cups of stock to a boil and stir in the uncooked rice, reduce heat to low, cover and simmer for 20 minutes (or until rice is cooked).
In a large, deep skillet heat olive oil over medium heat. Add in onion and pepper and cook until tender, 5-7 minutes. Add garlic and saute for 30 seconds.
Add black beans, green chilies, corn, and drained tomatoes, and stir. Season with salt and pepper and add in chili powder and cumin. Simmer over medium heat for 10-15 minutes.
Once the rice is cooked, add to the bean mixture and stir to combine. Add additional reserved tomato liquid if needed. Season to taste.