I am pretty sure that I heard angels singing Chocolate Cupcakes with Buttercream Frosting … with Vanilla-Salted Caramel when I bit into these cupcakes. Honestly, I think I did. The combination of chocolate cake and caramel was perfect. So good. As usual, I ate too much of them 😉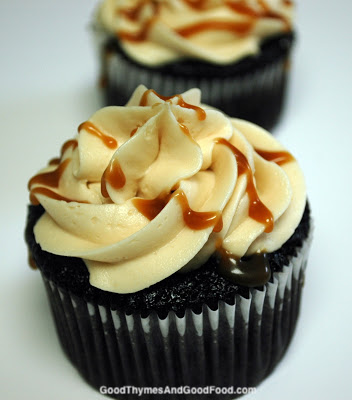 I used Hershey's Perfectly Chocolate Cake, as I usually do for chocolate cake. It always turns out moist and tender and perfectly chocolatey, as the title would suggest. I also used my stand-by vanilla buttercream and added caramel sauce to it. I cannot wait to make these again and find more uses for caramel sauce!
---
Chocolate cupcakes with buttercream frosting (Vanilla-Salted Caramel buttercream) Ingredients
For the cupcakes:
2 cups sugar
1 3/4 cups all-purpose flour
3/4 cup cocoa powder
1 1/2 tsp baking powder
1 1/2 tsp baking soda
1 tsp. salt
2 eggs
1 cup milk
1/2 cup vegetable oil
2 tsp. vanilla extract
1 cup boiling water
For the buttercream:
2 sticks unsalted butter, softened
2 ¾ cups confectioners' sugar
1/8 teaspoon salt
2 teaspoons vanilla extract
3 tablespoons caramel sauce
2 tablespoons heavy cream
---
Directions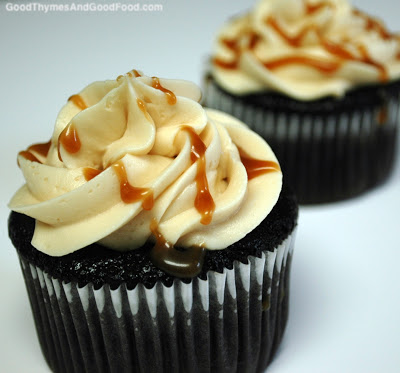 For cupcakes:
Heat oven to 350°F. Grease muffin tin or line with paper liners.
Stir together sugar, flour, cocoa, baking powder, baking soda, and salt in a medium bowl.
In the bowl (you can use the bowl of your stand mixer), combine eggs, milk, oil, and vanilla. Mix until well blended.
Add flour mixture to a large bowl and beat on medium speed for 2 minutes.
Stir in boiling water (batter will be thin). Fill prepared muffin cups 3/4 full.
Bake 20 to 24 minutes. Cool completely.
For buttercream:
In a standing mixer (with a whisk attachment), whisk the butter for about 20 seconds at medium-high speed until smooth.
Add sugar and salt; beat for about 45 seconds at medium-low speed until most of the sugar is moistened.
Scrape down bowl and beat at medium speed until mixture is fully combined about 15 seconds; scrape the bowl, add vanilla, caramel sauce, and heavy cream. Beat for about 10 seconds at medium speed until incorporated. Increase speed to medium-high and beat for 4 min until the mixture is light and fluffy, scraping down bowl once or twice.