I made this Chicken spinach artichoke bake the other night. I am not too big on casseroles – but this was REALLY good.
It has a lot of ingredients but don't let that turn you away. I had everything on hand and you probably do, too. Make this – you won't regret it!!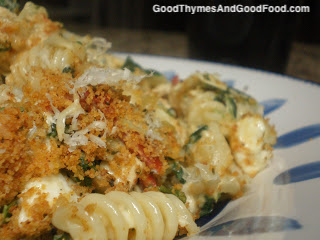 Ingredients
8 oz. dried bow-tie pasta (I will definitely add more pasta next time. But I like pasta!)
1 small onion, chopped
1 Tbsp. butter
2 eggs
1-1/4 cups milk (I used heavy cream because I had it on hand and it made it nice and rich. I will say that it could have used a little more liquid, so maybe up it by another 1/4 c. Also, if you had more pasta, you will need more liquid.)
1 tsp. dried Italian seasoning (I don't have this blend, so I used dried basil, oregano, and thyme. It worked fine.)
1/4 to 1/2 tsp. crushed red pepper (optional)
2 cups chopped cooked chicken
2 cups shredded Monterey Jack cheese (8 oz.) (I used a combo of extra sharp cheddar and feta. The feta worked really well with the artichokes and spinach.)
1 14-oz. can artichoke hearts, drained and quartered (I only had a 6 oz. jar, and that worked fine.)
1 10-oz. pkg. frozen chopped spinach, thawed and well-drained
1/2 cup oil-packed dried tomatoes, drained and chopped
1/4 cup grated Parmesan cheese
1/2 cup soft bread crumbs
1/2 tsp. paprika
1 Tbsp. butter, melted
Directions
Preheat oven to 350 degrees F. Cook pasta according to package directions (I undercooked this so that the pasta wouldn't get mushy in the oven); drain. In a medium skillet cook onion in 1 tablespoon butter over medium heat for about 5 minutes or until tender, stirring occasionally. Remove from heat; set aside.
In a bowl whisk together eggs, milk, seasoning, 1/2 tsp. salt, 1/4 tsp. black pepper, and crushed red pepper. Stir in chicken, Monterey Jack cheese, artichokes, spinach, tomatoes, half of the Parmesan, cooked pasta, and onion. Transfer to 3-quart rectangular baking dish.
3. Bake, covered, 20 minutes. In a small bowl combine the remaining Parmesan, bread crumbs, paprika, and melted butter. Sprinkle mixture over pasta. Bake, uncovered, 10 minutes more or until golden. Makes 6 to 8 servings.