I giggle every time I say Cheese Ball. Childish, I know. I can't help it!!
I'm usually not a huge fan of cheese balls, but this one is so good. I think it's the pineapple…I don't know.
I've had this recipe for a while now and finally made it to take to a family dinner. It made a lot. There were 8 of us that were eating it and it was only half gone when we started dinner. It could probably be cut in half if you didn't need so much. It was a big cheese ball! 🙂
This needs to sit overnight, so make sure you have time to do that before you make this one.
We were in a rush, so I didn't get to take any really good pictures. 🙁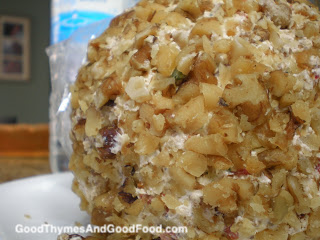 Cheese Ball Ingredients
2 8 oz packages cream cheese, softened
1 small can of crushed pineapple, drained
2 tbsp. chopped green onions
3/4 c. chopped bell pepper 
1 tbsp All Seasoning Salt
2 c. chopped pecans or walnuts
Directions
Save 1 cup of the nuts to roll in!

1. Mix all ingredients together and refrigerate overnight.
2. Roll into a ball and roll in the reserved nuts.
3. Serve with crackers.
Enjoy!